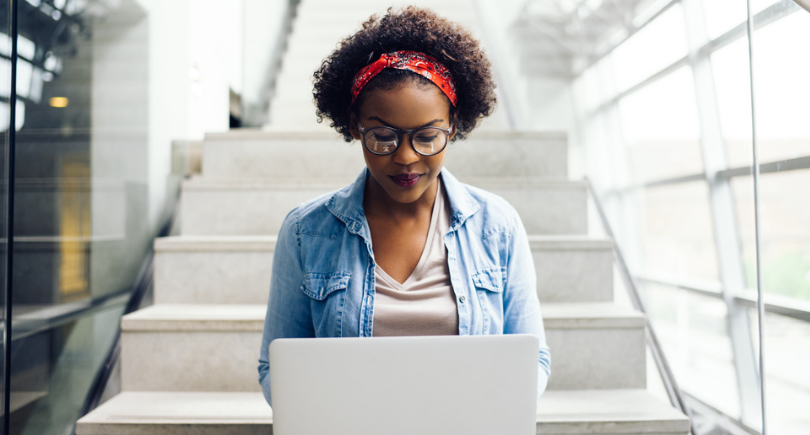 Credit cards are powerful financial tools that can open doors when used wisely. They can help you build a solid credit history, which in turn can help you do everything from secure a car loan at a better interest rate to getting a mortgage on a new home in the future. But how exactly should one go about getting their first credit card?
Whether you're an 18-year-old college student with no credit history or a 30-something who has always used cash or debit cards for purchases, there's some information you should know before applying for your first credit card.
From understanding credit card terms to navigating through the various types of credit cards available, entering the credit card market for the first time can be intimidating, though, it doesn't have to be.
If you have minimal experience with credit cards, continue on to learn more about what you should know before applying for one, and to learn how to best use your new card to your financial advantage.
Understand how credit cards can affect your credit score
First things first – do you know your credit score? And more importantly, do you understand the importance of a credit score?
Before you apply for a credit card, you'll want to check your credit report. A credit report includes a detailed overview of your credit history, including your current accounts, past due accounts, how much available credit you have and how much credit you're using. Your credit report also will contain information on your student loans and any other money you've borrowed from financial institutions, including a car, bank or home mortgage loan. All of this information will be used to determine your credit score, the number financial institutions use to assess whether to lend you money and at what interest rate.
You can check your credit report and credit score on annualreport.com. This is the only source for getting a free credit report, and you can get one from each of the three credit bureaus (Equifax, TransUnion and Experian) once per year. Check your report for any errors to ensure maximum potential for getting credit. If there are any errors – such as a wrongly reported late payment – contact the company who reported the error and/or the credit bureau to dispute it and get the error removed from your report.
So, back our initial question: why is your credit score so important? Ranging from 300 to 850, this number represents how responsible you are with your credit. In short, the higher your score, the better chance you have to get approved for a credit card, and with every swipe of a credit card, you're taking an action that can impact your overall report.
Ironically, if you've never used credit, your credit history isn't spotless – it simply doesn't exist. When you try to buy a home or vehicle, lenders won't know if you are a good credit risk. You may find it harder to get approved for the amount you need, and you could end up paying a higher interest rate than if you had a history of using credit cards responsibly.
If you have a strong credit history and a high credit score, you'll get a much better loan rate when you buy a house or a car. Fear of going into deep debt is understandable, but staying away from credit cards completely may hinder you in the future. Responsible credit card use is a great way to work towards an excellent score.
Understanding credit card terms
Once you've checked your report, the next step is to determine what kind of credit card you need. Before you start looking at and comparing cards, decide whether you want a card that offers perks and rewards (like cash back or points on purchase) or a no-frills credit card that allows you to steadily build credit.
Before you can do this though, you'll want to educate yourself on common credit card terms. Do you know what an intro APR is? How about an annual fee or credit limit? These are critical things you should know before deciding on a card.
An APR, or annual percentage rate, determines how much interest you'll pay on your credit card debt if you carry a balance. You can gauge how much daily interest you'll accrue for carrying a balance by dividing the APR by 365. For example, if a credit card comes with a 19.99% annual APR, the daily interest accrued would be around .055%.
Some credit cards offer an introductory APR to get you to sign up. These offers are usually for 12, 15 or 18 months depending on the card. During this time frame, you won't be charged any interest on purchases you make, so it's best to make large purchases – and pay them off – during the intro period. After the intro period is over, the interest rate on your card may jump substantially. As you research for a new card, don't just look at the intro APR rate, look at what interest rate you'll pay after that period ends.
First-time credit card users should also understand annual fees. An annual fee, which cardholders pay once a year, is the amount a credit card company charges you to use its credit card. Some credit cards don't have annual fees, some offer introductory offers such as no annual fees for the first year, and some cards have a fee right off the bat.
Usually, cards that offer a lot of perks have higher annual fees, typically in the range of $95 or more. Rest assured though that not all credit cards come with annual fees. There are some great cards out there that are free to hold, and not just for the first year.
Your credit limit is also important. A credit card company may give a first-time card holder with little to no credit history a low limit on their card, if they're approved. This limit can be a few hundred dollars or a bit more, but that should be enough to get you comfortable with using credit cards without getting yourself into financial trouble. After you've had the card for some time and prove that you're a reliable borrower by making all your payments consistently, you can always ask your credit card company to raise your limit. However, if you're just starting out, we recommend a credit card with no annual fee, a low interest rate and a moderate credit limit.
➤ RELATED CONTENT: How do credit cards work?
In addition to these things, you might come across some other common terms, such as foreign transaction fees and balance transfers. While we're here, let's go ahead and break these things down as well…
Foreign transaction fees are pretty straight forward. If you carry a card with a foreign transaction fee, you'll be charged a percentage, usually around 3%, on each foreign transaction purchase you make. So say you go to Europe for vacation and spend $2,000 while you're there with your credit card. Unless you have a card with no foreign transaction fees, you'll pay about $60 in fees for those purchases. There are plenty of great cards out there that don't have foreign transaction fees, so if you plan to use your card abroad often, this is a term you'll want to pay close attention to.
Balance transfer credit cards allow you to save on interest by moving an existing balance from a high interest rate credit card to one with a lower rate. This is a great option for recent graduates who may have accrued credit card debt in college. Many balance transfer cards come with introductory offers such as 0% APR for 12 or 18 months, and some credit card companies even waive the 3% to 5% balance transfer fee they charge to transfer your debt during this introductory period.
Balance transfer cards only work to your advantage if you pay off the transferred balance in full before the end of the intro period, so make sure you're mindful about when you pay things off.
Types of credit cards
Now that you're familiar with some basic credit card terms, you're ready to start looking at the various types of credit cards available to you. If you're a recent high school or college graduate, or just a first time credit card user, your most likely credit card options will be either a student credit card or a secured credit card.
Student credit cards
Student credit cards exist because most young people haven't had enough of a financial history to build credit yet.
Banks use student credit cards to "test drive" potential long-term customers. With low credit limits and higher-than-average interest rates, they usually serve the purpose of establishing a baseline for a student's future borrowing behavior.
Most student credit card issuers will require proof of your student status before issuing you a card and some have age restrictions, so check the fine print before applying.
➤ RELATED CONTENT: Student Credit Cards 101
Secured credit cards
If you have little to no credit history, a secured credit card is another option to consider. Capital One, Wells Fargo and Bank of America all offer strong secured card programs that don't cost a lot of money. Unlike some of the "bad credit, no problem" deals you'll see online, these name-brand cards offer paths to convert a secured card into unsecured credit after a year or two of positive credit behavior. Just keep in mind that in some cases you may need a cosigner (i.e. mom or dad) to get a secured card, especially if you're a college student with no credit history.
So, how exactly does a secured card work?
A secured credit card requires potential cardholders to put down a deposit as collateral. This deposit is typically $200 or more and the amount you put down will generally be equal to your credit limit. For example, put down a $400 deposit and the credit card company will give you a card with a $400 credit limit. To increase your credit limit, you may have to put more money down or show a history of consistent on-time payments.
A secured card helps develop your credit history; however, you should confirm that the card will be reported to all three major credit reporting agencies. Most secured credit card programs routinely report to one or all three credit bureaus. Because an on-time payment history accounts for more than 33% of your credit score, on-time payments of any secured debt is one of the fastest ways to build good credit.
Secured cards are a great stopgap measure if you have no credit (or bad credit) because you can use them to build credit and then later apply for an unsecured credit card, which make up the majority of the credit card market. When you're ready to apply for a regular credit card, the best place to do so is with the credit card company that currently issues your secured credit card. When you sign up, make sure to ask your credit card company if they will offer you an unsecured card after a designated period of on-time payments.
These cards can help you establish the financial track record you'll need to achieve many of your future goals. You'll just need to set aside a few hundred bucks for your refundable security deposit and your non-refundable annual fee, if the card has one. You can search for a secured credit card online or to go to a bank or credit union within your community and see if they offer a secured credit program. Many banks do.
Rewards credit cards
Rewards credit cards are some of the hardest credit cards to get, and for good reason as most of the time these cards come with some seriously enticing perks and bonuses. Most often though, the best rewards cards come with annual fees, higher interest rates, and higher credit limits, so they aren't always the best credit cards for users who are just starting out.
As the name implies, rewards credit cards reward users for making purchases, usually in the form of sign up bonuses and points or miles earned on purchases made. Ideal for credit card users with good to excellent credit, and with a history of making monthly payments on time, these cards can be excellent cards to hold, but again, they could be risky for brand new credit card users. A $10,000 credit limit might seem really exciting, but if you're not used to that kind of power, you could get yourself into financial trouble fast.
Same goes with bonuses. A 50,000 point sign up bonus might sound amazing, but not when you have to spend $4,000 in three months to receive it – especially if you're accustomed to making much smaller purchases with your card. And then while we are at it, earning points on purchases can be risky too. If you learn that you can earn 3% back on grocery purchases, and then you suddenly start buying triple the amount of groceries just so you can earn those points, it won't do you much good if you can't pay off your balance each month. There are certainly some amazing benefits that can come from using a rewards credit card, but responsible credit card use is especially important when it comes to these cards.
If we got you excited about rewards credit cards but you're just starting out, don't worry; there are still a number of great student credit cards and low interest credit cards out there which offer rewards.
Become an authorized credit card user
If you're still really not sure about opening a credit card account of your own, another thing you could consider is asking your parents if they're comfortable adding you as an authorized user on their card account. If they are, you can make purchases on their account and potentially benefit if they have a good credit history. The card will be in your name, but since you aren't a co-signer or joint account holder, you won't be liable for any charges or balances on the card. Just be sure to use the card responsibly. If you don't, this could damage the primary cardholder's credit – and your relationship. This is why these arrangements work best only with someone you trust.
Using your new credit card responsibly
Once acquiring your new credit card, it's important to use it wisely in order to build a good credit score. The following tips are good advice to follow to ensure you're using your new credit card responsibly:
Pay all of your bills on time each month. By paying on time, you're showing the lender or creditor that you've got enough cash flow to cover your expenses. If you pay late and the creditor reports your late payment to the credit bureaus, it may damage your credit history and lower your credit score.
If possible, pay off your charges in full at the end of the month. Use your credit as it was intended: as a short-term loan. Become familiar with the payment terms of your credit card. If a larger expense like a car repair or holiday travel requires that you carry a balance for a few months, set achievable goals to repay the debt as soon as your cash flow allows.
Keep total charges well within your credit limit. Start building your credit history by using a credit card with a low credit limit. This can help you learn how to use cards in a more controlled setting.
Take advantage of the useful tools credit card issuers offer, including text and email alerts about upcoming due dates and automatic bill pay. This will ensure you don't miss a payment.
Contact the issuer if you're having trouble making a payment. There may be payment programs available that can help you get back on track.
Following this advice will set you on the right financial path and allow you to leverage credit cards in a way that strengthens your buying power. Just keep in mind that it's not free money – it's a tool to help you learn financial responsibility.