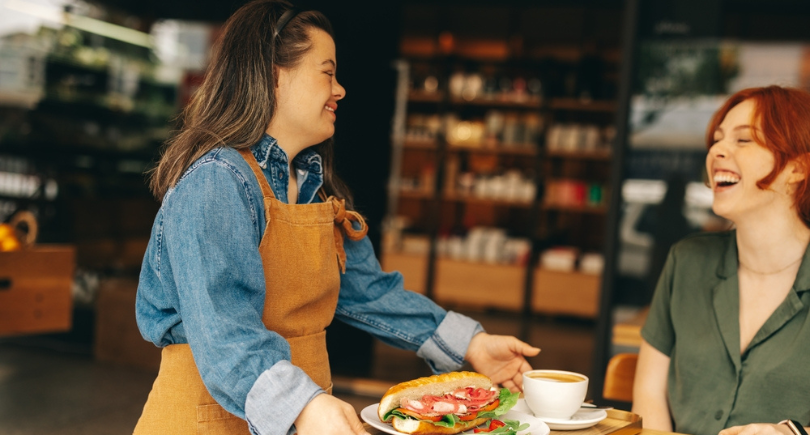 When it comes to access to credit cards, there's a great divide between American adults with disabilities and without disabilities. But it's a divide that adults with disabilities can bridge.
People with disabilities can qualify for credit cards in the same way anyone else can. A bank does not require that you state whether or not you have a disability on your application. People with disabilities can have incomes, build credit scores, get loans and responsibly handle credit, and that is, ultimately, what credit card issuers want to know.
However, data from the Federal Deposit Insurance Corp. (FDIC) shows that in 2021, most U.S. households (52.6%) led by adults with a disability 25 to 64 years old did not have a Visa, Mastercard, American Express or Discover credit card within the previous 12 months. For the same category of adults without a disability, the figure was 25.1%.
Bottom line: Most heads of a household with no disability have a credit card, but most heads of a household with a disability do not.
Why is that the case? A widely cited 2017 report from the National Disability Institute and FINRA Investor Education Foundation says that although many people with disabilities hold down jobs that pay well, adults with disabilities are more likely than others to have:
Lower income
Lower levels of education
Higher expenses
Those circumstances can contribute to low credit scores and poor credit histories, the report says. In turn, those factors can make it tougher for adults with disabilities to qualify for a credit card. As a result, adults with disabilities are more likely than their non-disability counterparts to rely on high-cost borrowing options such as payday loans, pawnshop loans and title loans.
Salvador Ramirez Jr., manager of the Amegy Bank branch in West Lake Hills, Texas, an Austin suburb, pointed out that any obstacles to obtaining credit aren't permanent.

There is a perception that if you have no credit that you don't have access to it. That is not true. There are resources and tools that can help you build your credit.
So, how can adults with disabilities improve their odds of getting a credit card? Here are four recommendations.
1. Get a secured credit card
A secured credit card can help someone build or rebuild credit.
You apply for a secured credit card the same way you'd apply for a traditional credit card. However, unlike a traditional credit card, a secured credit card requires that you deposit money — perhaps $50 to $300 — into a separate account. The amount of the deposit held by the card issuer usually equals the card's credit limit.
A traditional credit card is an unsecured card, meaning you don't need to make a cash deposit to open an account. In addition, a traditional card typically offers a higher credit limit than a secured card does.
As you would with a regular credit card, you use a secured card to make purchases. As long the card issuer reports the cardholder's payment activity to at least one of three major credit bureaus and you use the card responsibly, you can build or rebuild your credit.
Representing 35% of the score, payment history is the number one factor in calculating the widely used FICO credit score.
In many cases, a positive payment history enables the holder of a secured card to "graduate" to a regular card from the same issuer. Or, based on that positive payment history, you may be able to open a traditional credit card account from another card issuer.
Ramirez called a secured card "an awesome tool" for helping establish or re-establish credit.
2. Apply for a store credit card
Many retailers and gas stations issue so-called store credit cards. These frequently can be used only at their locations. Retail store cards normally are easier to obtain than traditional credit cards and come with lower credit limits.
As with a secured credit card, making timely payments on a store credit card account can add positive marks to your credit report and can lift your credit score.
Keep in mind, though, that store credit cards tend to charge higher interest rates than traditional cards or secured cards do. This means you'd pay more in interest to borrow with a store credit card than with a traditional or secured card.
➤ FURTHER READING:Are retail credit cards worth it?
3. Take out a credit-builder loan
A credit-builder loan is another option for building or rebuilding your credit — and potentially putting you on the path toward a traditional credit card. One advantage of a credit-builder loan: You don't need to have a good credit score to qualify, and some credit-builder lenders don't even run a credit check.
Banks, credit unions and online lenders are among the financial institutions that offer credit-builder loans.
If you're approved for a credit-builder loan, the lender deposits the amount of the loan into a savings account. The loan amount generally is $300 to $1,000. Over a period of six to 24 months, you'll make monthly payments on the loan. Those payments are reported to at least one major credit bureau.
Once the loan is paid off, you'll be able to access the money that you deposited, along with any interest earned on the savings. You may even get back the interest that was paid on the loan.
If you make on-time payments on a credit-builder loan, this positive activity shows up on your credit report and can help boost your credit score. As a result, you may be in a better position to qualify for a traditional credit card.
➤ FURTHER READING:Tools for building credit: Credit builder accounts, secured cards
4. Become an authorized user
A friend or relative with strong credit may be able to add you to one of their credit card accounts as an authorized user. For someone with little to no credit history, this can be a good alternative to a secured credit card, store credit card or credit-builder loan.
To become an authorized user, you don't need to go through a credit check. And while the name of an authorized user appears on an account, the primary cardholder is the only one responsible for making payments. Yet an authorized user can make purchases with the card, as long as the primarily cardholder allows it.
Before being added as an authorized user, make sure the card issuer will report credit activity in your name to at least one of the three major credit bureaus. Some card issuers just report information for the primary cardholder.
Also, be aware that if the primary cardholder makes late payments or misses payments, it can harm your credit record. This negative activity will show up on your credit report — and could drag down your credit score — even though you're the authorized user and had no responsibility for those payments.
➤ FURTHER READING:Guide to adding authorized users to your credit card
Tips for maintaining good credit
If you are able to get a credit card or loan, it's vital to maintain a positive credit history. Otherwise, the hard work you put in to obtain credit could be weakened.
Here are three tips for maintaining good credit.
1. Carefully manage your credit
Ramirez, the Amegy Bank manager, emphasized that while making on-time payments can help your credit record, making late payments or missing them altogether can hurt it.
"Credit cards can be easily maintained when you use them for purchases you know you would normally make in a month and pay off at the end of the month," Ramirez said.
For example, you might use a credit card to buy a cup of coffee, fill up your gas tank or dine at a restaurant.
➤ LEARN MORE:How do credit cards affect your credit score?
2. Seek help
Don't be ashamed to ask for help with obtaining a credit card.
Ramirez encourages his customers to approach him if they have credit questions or when something doesn't make sense.
"For those who may need assistance or caretaking, or for those who may just want an extra set of ears and eyes nearby, bring someone along who you trust and are comfortable with them weighing in on the conversation," he said. "Applying for a credit card is an important life event, especially if it is your first credit card."
"There's so few programs out there that help teach young people — disabled or not — how to manage credit. Financial literacy in this country is terrible. It's just horrible," said Charlie Massimo of Blue Point, New York, senior vice president of Wealth Enhancement Group and the father of two 23-year-old sons with autism.
Massimo believes there should be a federally mandated program that teaches people with disabilities and their guardians how to build and manage credit.
3. Don't be discouraged
If your credit application is rejected, don't let it get you down.
You should receive a letter spelling out the reasons why your application was denied, according to Ramirez. Review those reasons, then work on making improvements that will boost your chances of being approved the next time around. Furthermore, if you do have a credit history, be sure to regularly go over your credit report. This enables you to spot any issues or errors that are preventing you from obtaining credit, and can alert you if someone has fraudulently opened an account in your name.