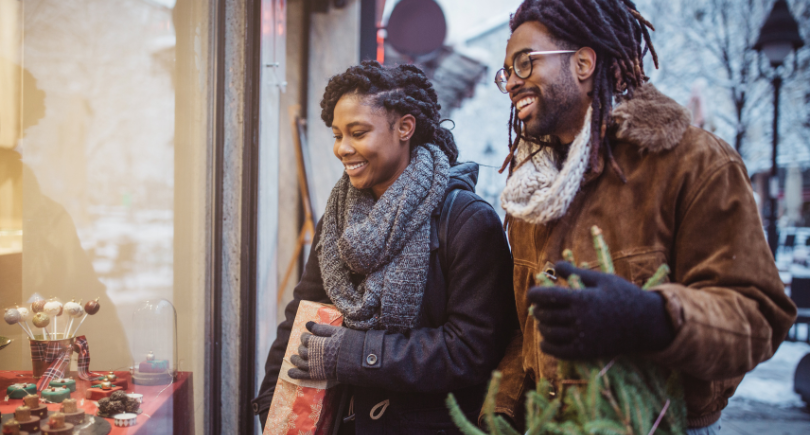 With the holidays coming, your credit cards are probably about to get their usual end-of-the-year workout. There are things you could be doing to make your holiday shopping easier, though. Instead of working your credit card overtime, consider giving yourself these five credit card gifts instead:
1) Give yourself the gift of a new credit card to help with your cash flow and credit utilization ratio
The idea here isn't that you get another credit card and max it out and go into debt in your quest to give your family and friends a ton of gifts during the holidays, but credit cards can help with cash flow and credit utilization when used properly.
If you're shopping a ton, and your paychecks are spaced out, nobody needs to tell you that credit cards can be helpful with managing cash flow by allowing you to buy gifts this week that perhaps you otherwise wouldn't have the money to pay for, for another week or two.
And if you have one or two credit cards already, you may feel like your cash flow problems are already solved. But another credit card could help with your credit utilization ratio.
Credit utilization ratio is a credit card term that refers to how much available credit you have – and how much of that credit you have borrowed.
Lenders like it when cardholders have a lot of available credit – but aren't using most of it. It can be admittedly a little weird, that a lender would rather see somebody with $10,000 in available credit, and the person only borrowing, say, $1,000, than somebody with $500 in available credit, and they've borrowed $400 of it, but, yes, that's right. In the first case, you have a 10% credit utilization ratio, and in the second, an 80% credit utilization ratio.
Ideally, most personal finance experts suggest borrowing no more than 30% of your available credit, and some pundits suggest borrowing no more than 10% or 5%.
At any rate, if you want to stay on a lender's good side and keep your credit score healthy, you don't want to max out your credit cards or come close to it, if you can help it. It can cause your credit score to drop, even if you're constantly paying off your cards in full every month. So, yes, another credit card with a lot of available credit, if you're judicious about how you use it, could actually help your credit score during the holidays.
2) Give yourself the gift of a credit card welcome bonus
If you're going to open another credit card, you might as well enjoy the gift of a welcome bonus while you're at it. A credit card welcome bonus can be especially handy during the holidays as it can help offset extra costs, or perhaps help you save on a holiday getaway.
Many credit cards offer welcome bonuses when you spend a certain amount of money with the card within a specific timeframe. The holidays can be a great time to meet a required spend threshold as many people tend to spend more heavily with their cards during the holiday season.
If you apply for the CardName, for example, you could earn $200 in online cash rewards after making at least $1,000 in purchases in the first 90 days of account opening. Plus, this card earns 3% cash back in a choice category, including gas/EVC, online shopping (including cable, streaming, internet and phone services), dining, and travel – all categories which people tend to spend more heavily in during the holiday season – among others. Furthermore, earn 2% back at grocery stores and wholesale clubs (up to $2,500 in combined choice category/grocery store/wholesale club quarterly purchases), which are popular categories year round, and 1% on all other purchases made with the card. Spending $1,000 may feel like a stretch, but you have 90 days to so and you'll pocket $200 in online cash rewards to help offset some of your costs if you do.
Or perhaps you're trying to save up for a big holiday vacation. Travel credit cards oftentimes offer the best welcome bonuses, usually enough to significantly offset the cost of a trip. Take the CardName, for instance. New cardholders can earn a one-time bonus of 75,000 miles once spending $4,000 with the card within the first three months of opening an account. That bonus is worth $750 in travel! And on an ongoing basis, cardholders earn 2X miles per dollar spent with the card, so whether you're purchasing groceries for a Thanksgiving feast, gifts for your friends and family, or airline tickets for a New Year's getaway, you'll earn on it all.
Now, all that said, this gift only makes sense if you choose a card that matches your spending habits. You'll benefit most long term with a card that compliments your lifestyle, no matter the welcome bonus, so choose wisely.
3) Give yourself the gift of paying off debt with a 0% APR offer
If you're worried about accumulating a lot of debt over the holidays, you may want to look for a credit card that offers intro 0% APR. These cards allow you to enjoy 0% APR on new purchases for a certain amount of time, so you can shop now and pay later, without worrying about extra interest costs. Just make sure to pay off your balance before the intro period expires as regular APR will apply to any unpaid balances once the promotional period is over.
On the other hand, if you're already carrying debt and want to work towards the gift of being debt-free, you could consider a credit card offering a 0% intro period on balance transfers. This would allow you to transfer a debt from an existing credit card to a new card offering an intro 0% APR period, providing you extra time to pay off your balance interest-free.
The Citi Diamond Preferred Card, for example, offers 0% APR on balance transfers for 21 months from the date of your first transfer (all transfers must be completed within the first four months BalanceTransferFees). That means you have nearly two years to pay off your debts interest-free! (After the intro period, regular RegAPR APR applies.) With an offer like this, even if you can't pay off your debts this holiday season, you can hopefully achieve this before next year's holiday festivities. Citi is a CardRatings advertiser.
4) Give yourself the gift of cash back, from cash back credit cards
This is certainly an important money-savings strategy to keep in mind, if you're not already in the habit of doing it.
If you have multiple cash back credit cards, you could be…
…using a credit card that offers you cash back at online stores. For instance, the CardName rewards cardholders with 3% cash back on eligible U.S. online retail purchases on up to $6,000 spent per year (then earn 1%). So if your holiday budget is $6,000 or less, you'd get $180 (or less) making its way back into your bank account as a statement credit. American Express is a CardRatings advertiser.
…using a credit card that offers you cash at grocery stores. If you have family coming over for a big meal, a credit card that offers cash back at the supermarket would come in very handy. For example, the CardName is currently offering 6% cash back when you spend up to $6,000 a year (then 1%) at U.S. supermarkets.
…using a credit card to help with holiday travel. If you're traveling to a family member's house or going on a vacation, you might want to consider a card such as the CardName which offers three points per dollar spent at gas stations, on air travel and at hotels.
No credit card will likely make your holiday expenses feel cheap, but you can definitely leverage your cards so that things feel less expensive.
5) Give yourself the gift of a gift
That's right – after all of your holiday shopping is finished, you ought to buy yourself a little something. It's the least we can do for ourselves. We all deserve it, and everybody's always talking about the importance of self-care and health. That's our story, anyway, and we're sticking with it.