OpenSky® Secured Visa® Credit Card review
With no credit check and an easy sign-up process, the OpenSky® Secured Visa® credit card makes it simple to build credit, even if you have a shaky or non-existent credit history.
OpenSky® Secured Visa® Credit Card
CardRatings Editor's Analysis: Pros & Cons
There's no credit check needed as part of the application process, so applying for this card should be quick and painless.
OpenSky provides credit tips and a dedicated credit education page on their website to support you as you work on your credit.
OpenSky® submits monthly reports to all three credit bureaus, so you can boost your credit score if you use the card wisely and pay the bill on time.
This secured card comes with a $35 annual fee, in addition to the needed security deposit to establish your line of credit.
Terms and Limitations Apply.
With no credit check and an easy sign-up process, the CardName makes it simple to build credit, even if you have a shaky or non-existent credit history.
The CardName has many benefits including an easy four-step application process with no credit check, a refundable opening deposit, and the ability to increase your credit limit after opening your account. The no-credit-check policy for this card makes it simpler for people who have bad credit to repair it.
Additionally, cardholders can choose an available statement due date that fits their payment schedule, a benefit that should make it easier to plan your payments and handle your card responsibly.
The CardName reports monthly to all three major credit bureaus, so when you pay your credit card balance on time and in full it can help to boost your credit score in the long term.
The OpenSky® card is a legitimate Visa® credit card that comes with features like the Visa® Zero Liability policy. This feature protects cardholders against fraud. If any unusual activity occurs on your account, Visa® will contact you to verify its authenticity.
In addition to fraud protection, OpenSky® also provides financial literacy tools in the form of online education and a regular newsletter that covers topics such as understanding your credit score, building credit and debt management.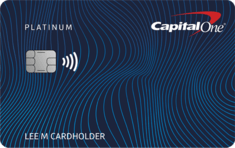 No annual or hidden fees. See if you're approved in seconds
Building your credit? Using the Capital One Platinum Secured card responsibly could help
Put down a refundable security deposit starting at $49 to get a $200 initial credit line
You could earn back your security deposit as a statement credit when you use your card responsibly, like making payments on time
Be automatically considered for a higher credit line in as little as 6 months with no additional deposit needed
Enjoy peace of mind with $0 Fraud Liability so that you won't be responsible for unauthorized charges
Monitor your credit score with CreditWise from Capital One. It's free for everyone
Get access to your account 24 hours a day, 7 days a week with online banking to access your account from your desktop or smartphone, with Capital One's mobile app
Credit Needed:
Limited, Bad
With the CardName you determine your line of credit based on the opening security deposit amount. OpenSky® essentially asks cardholders to make an initial investment in themselves — similar to how a bank asks you to make a down payment to qualify for a home loan. Make a deposit of $500 and that's your credit limit (deposits can be as low as $200). Credit lines go up to $3,000 with approval from Capital Bank. OpenSky® accepts security deposits via debit card, wire transfer, check or money order. Conveniently and helpfully, new cardholders can make small partial payments toward funding their security deposit over the first 60 days.
There are several benefits to the way that OpenSky® treats the initial deposit to open an account. First, the initial deposit secures the credit account in lieu of a credit check. So, if you have a poor credit history or even no history at all, you can still get a credit card and use it right away to start improving your score. The amount of the deposit you make when opening your account is important, as it determines what the initial credit limit is on the account.
The initial opening deposit can be as little as $200. Whatever the amount of the initial deposit, another large benefit of the CardName is that the initial deposit is fully refundable. The deposit is held in an FDIC-insured account, with the full amount of the deposit returned to you when the account is closed. It is similar to a security deposit that you make when renting an apartment that is returned in full at the end of a lease.
One of the downsides to some secured credit cards is that they don't have the ability to increase the credit limit once the account has been opened for the card. For instance, if you opened one of those cards with a $200 limit, you would be locked in to that credit limit for the time that you own the card. As many people use unsecured credit cards to improve their credit score and build a credit history, having a locked in credit limit can be a downside to some cards. However, with the CardName you can increase your credit limit after opening, up to $5,000 with the required deposit.
In addition to having an initial deposit to open, many secured credit cards have an accompanying annual fee to maintain the card. As secured credit cards are geared towards individuals that have limited or poor credit histories, the trade off to have no credit check normally comes with these fees.
The CardName comes with a AnnualFees annual fee, in addition to the needed security deposit to establish your line of credit. However, this AnnualFees fee is relatively low on the spectrum of unsecured credit cards.
One drawback for the CardName is its AnnualFees annual fee. This is not the highest on the market, however, it's something to consider. You also don't get any rewards or signup bonuses, but that's to be expected since this card is more about function than fashion.
Also, this card does have a foreign transaction fee of foreign_fee, so it is wise to not use it abroad as you can quickly accumulate fees when making purchases internationally.
OPENSKY® SECURED VISA® CARDHOLDER SCORES
CardRatings conducts a survey annually to learn what actual cardholders think of their cards. Here are the results:
| | Current Scores | Past Scores |
| --- | --- | --- |
| Overall Score | 77.2 | 66.7 |
| Features Satisfaction | 7.5 | 6.5 |
| Customer Service | 8.1 | 6.5 |
| Website/App Usability | 7.8 | 6.7 |
| Likelihood of Continuing to Use | 7.7 | 7.0 |
| Recommend to a Friend/Colleague | 7.7 | 7.0 |
OpenSky® Secured Visa® vs. Citi® Secured Mastercard®
discontinued
The CardName is similar in many ways to the OpenSky® Visa®. It is a secured credit card that allows you to determine your credit limit with the amount of the initial deposit with a minimum of $200. Citi® asks applicants to make a security deposit that will be equal to their credit limit. Credit lines for the CardName range from $200 to $5,000.
The Citi® card also has $0 liability on unauthorized charges made on your account.
Unlike the Opensky® card, the CardName has no annual fee, but like the OpenSky® Visa®, it also reports your credit history with monthly reporting to all three major credit bureaus.
The CardName is a good credit card. Secured credit cards, in general, are great tools for anyone just entering the credit card world, or looking to repair their existing credit history. The OpenSky® card requires potential cardholders to have the cash on hand to open a line of credit with an initial deposit, but this deposit is fully refundable when the account is closed.
The AnnualFees annual fee, lack of credit card rewards earning, and foreign transaction fees make it a card that isn't for everyone; however, if you are looking to build or repair your credit, the OpenSky® Secured Visa® credit card could be a great option for you.
Survey Methodology: CardRatings commissioned Op4G in September and October 2022 to conduct surveys among 1,554 cardholders nationwide. CardRatings website analytics from Jan. 1, 2022-Aug. 31, 2022 were used to determine a selection of the most popular cards and additional cards were included to add survey breadth. Responses to each of nine questions were given on a scale of 1-10 and respondents' scores were then averaged under broad topics. To determine the overall score, responses from questions 1-8 were summed and the answer to "How likely are you to recommend this card to a friend, coworker or family member?" was double weighted. "Current Scores" reflect scores from the most recent survey (2022); "Past Scores" reflect scores from the 2021 survey.
OpenSky® Secured Visa® Credit Card Compared to Other Bad credit Cards

Compare a different card

Applied Bank Secured Visa® Gold Preferred® Card
Regular APR
22.14% (Variable)
Regular APR
29.99% (Variable)
Regular APR
9.99% (Fixed)
Disclaimer: The information in this article is believed to be accurate as of the date it was written. Please keep in mind that credit card offers change frequently. Therefore, we cannot guarantee the accuracy of the information in this article. Reasonable efforts are made to maintain accurate information. See the online credit card application for full terms and conditions on offers and rewards. Please verify all terms and conditions of any credit card prior to applying.
This content is not provided by any company mentioned in this article. Any opinions, analyses, reviews or recommendations expressed here are those of the author's alone, and have not been reviewed, approved or otherwise endorsed by any such company. CardRatings.com does not review every company or every offer available on the market.