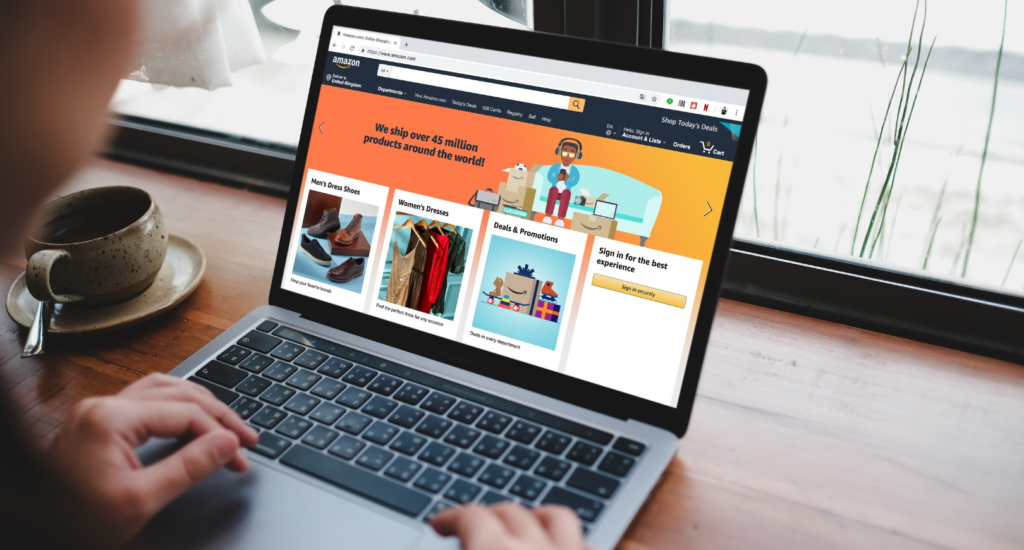 As the holiday season approaches, you're probably turning to Amazon.com more than normal. Perhaps not – obviously, there are a lot of great physical storefronts out there as well, but Amazon certainly looms large for a lot of people during the holidays thanks to its convenience. If that's you, now is a good time to make sure you're making the most of your Amazon.com purchases. Consider what follows your saving-money-on-Amazon blueprint.
Use an Amazon Prime card
We'll start with this, since it's the obvious way to save on Amazon. Amazon's CardName card offers 10% back or more on a rotating selection of products and categories at Amazon.com and unlimited 5% cash back on all Amazon.com, Amazon Fresh, Whole Foods Market and Chase Travel purchases.
To get the best benefit from Amazon's Prime Visa card, you just need to make sure you are always caught up and paid up on your Amazon Prime membership to benefit (without paying the $139 Amazon Prime membership fee, you'll get 3% off everything with the same card, which is still really good… just not as good as the 5% offered with Prime membership).
Also, don't carry a balance on the card. If you carry a balance, you'll still get 5% back on your purchases, but if you're always paying interest on charges, you're typically going to lose more money than you are saving.
It's also worth noting that when you use the Prime Visa at restaurants, gas stations and on local transit, you'll get 2% back, and if you use it for anything else, you'll get 1% cash back.
You could also save a lot (5% cash back) if you're paying for a big holiday feast for the family, and you get your food from Amazon Fresh or Whole Foods Market. And if you're traveling for the holidays, and you pay for travel through Chase Travel, again, you'll earn 5% cash back.
It's also worth mentioning that there are other Amazon credit cards you may know of, already have, or want to check out:
Amazon Prime Store Card. This is more along the lines of a "store" credit card, like having a credit card you can only use at Macy's. You can only use the Amazon Prime Store Card at Amazon or any of its stores.
The Amazon Prime Secured Card. You'll have to deposit $100 to $1,000 of your own money, which is refundable, to open an account. As with all secured credit cards, it's a credit card designed to help consumers build credit.
CardName. It's similar to the Prime Visa card but aimed at business owners. For instance, you'll get 5% cash back on various purchases at Amazon Business, Amazon.com and other Amazon businesses (on up to $120,000 in purchases each calendar year, 1% back thereafter).

discontinued

American Express is a CardRatings advertiser.
Other credit cards might help you maximize your Amazon savings even more
If you don't have an Amazon Visa or have no desire to get one, there are other credit cards that that can help you save on Amazon. A few standouts that you may want to consider include:
CardName. You can earn a $200 statement credit after spending $2,000 in purchases in the first six months. If you think you might be spending $2,000 during the holidays, whether at Amazon or anywhere else, and you want to get $200 of that back, it may be something to consider.

discontinued

CardName. If you get it soon, during the holiday season, one of its quarterly bonus categories (expiring Dec. 31st, 2023) is Amazon.com purchases, so people can earn 5% cash back up to $1,500 this quarter with that card on Amazon purchases. That means you could get $75 back if you spend $1,500 on Amazon before this offer expires.
CardName. This is a flat rate card, where you get unlimited 1% cash back when you make the purchase, and 1% cash back after you pay for the purchase (at least the minimum due needs to be paid on time). Essentially, you'll get 2% cash back on any of your holiday spending, whether you're shopping at Amazon.com, your local shopping mall or buying a chili dog at a food truck. Citi is a CardRatings advertiser.
CardName. Another solid option to consider thanks to 1.5% cash back earned on all purchases. Its welcome bonus could also help with holiday gifts: after you spend $500 on purchases within the first three months, you'll earn a $200 bonus.
CardName. You'll get 3% cash back on the shopping category of your choice, such as travel or dining or gas – or online shopping. So that might be your go-to card when shopping on Amazon. You also get 2% cash back at grocery stores and wholesale clubs (up to $2,500 in combined choice category/grocery store/wholesale club quarterly purchases) and 1% cash back on all other purchases. And if you spend $1,000 in the first 90 days of opening the account, you'll earn a a $200 online cash back bonus, which should help reduce your holiday shopping bill.
How can an Amazon Prime membership help you save?
You can kind of think of Amazon Prime as being modeled after the membership warehouse club stores, like Costco and Sam's Club, both of which have been around longer than Amazon.
Amazon Prime is also a lot like a credit card with an annual fee.
In other words, if you pay a $139 membership fee to Amazon (or $69 if you're a college student) or a membership fee to a warehouse club, an annual fee to a credit card, an annual or monthly fee to a streaming service, a membership fee to a country club and so on, you expect to get something for it, preferably a lot of something. And if you're an Amazon disciple, the membership arguably delivers.
Some of the benefits Amazon Prime shoppers will get include:
Deeper discounts when you use your Amazon credit card. We've covered this already, but in a nutshell, if you have Prime Membership, and if you have an Amazon-branded card, you're going to get more rewards with the card than if you don't have the membership.
Free shipping. That's a benefit that comes with a Prime membership, and if you buy a lot of stuff, and you save on shipping costs, you'll likely feel like the membership is paying for itself. Free express shipping options can also really come in handy for last-minute gift purchases. and it beats waiting in line at the post office.
Extras that may help make the membership fee more palatable. There are perks such as unlimited streaming of movies and TV episodes for Prime members, free reading materials from Prime Reading, and free photo storage from Amazon Photos.
Of course, if you're more of a fan of other retailers, such as Walmart, they have their own version of Amazon Prime called Walmart+ that costs $98 a year.
Other ways to save when shopping on Amazon.com
Along with having an Amazon Prime membership and a credit card that earn you cash back on Amazon purchases, if you really want to play the saving on Amazon shopping game, you'll want to employ several strategies:
Keep an eye out for Prime Card Bonuses. Amazon has a "Prime Card Bonuses" website, where it'll give consumers more than the standard 5% cash back on certain products, generally 10%. The products tend to be pretty random, but if you happen to need a certain type of camera lens, or antivirus software or whatever Amazon's offering, and you can get more cash back for it, you'll be glad you were paying attention.
Pay attention to Amazon Prime Days. These days don't come around too often. For a long time, it was once a year. Then in 2022, there were two Prime Days, and in 2023, so far, there have been two Prime Days. These sales are for Prime members and kind of similar to Black Friday sales, where retailers slash prices after Thanksgiving (and sometimes throughout November). Of course, if you're shopping for stuff on Amazon, you'll want to pay attention to Amazon's Black Friday, Cyber Monday and holiday sales in general, too. If you can use a cash-back credit card on a day with a big Amazon sale, all the better.
Use cash back apps and websites. Not every cash-back app will work with Amazon, but some cash apps do, like RetailMeNot. You could, in theory, go to a site like RetailMeNot, in order to get to Amazon's website and possibly get cash back from that site and cash back from your credit card as well. And if you're able to do it on an Amazon Prime Day… well, hey, hey.
Don't forget about coupons. Alas, Amazon doesn't accept manufacturer coupons (although Whole Foods, which Amazon owns, does), so if you have a great coupon for laundry detergent or oatmeal or whatever, you'll want to use that at your local supermarket. But Amazon does have an "Amazon Coupons" webpage, worth checking out. It might be worth going there, looking for gift ideas and a way to shave off a few bucks off a present. You also might find Amazon Promo Codes on various coupon code websites.
Subscribe and save. If there's an item you purchase regularly, consider subscribing to receive that item on a regular basis. Subscription purchases often offer deeper discounts, so this move can help both help you save and ensure you're never without that item when you need it.
Bottom line on Amazon
Amazon has become a wealthy retail giant by selling virtually everything under the sun and getting it to you as cheaply and as quickly as possible. But they probably didn't do it without your help, if you've been spending money with them for awhile. So if you're a fan of the retailer, you practically owe it to yourself to put as much money back in your pockets as you can. Fortunately, the more money you shell out to Amazon, especially if you're using Amazon cash-back credit cards, the more it will return to you.