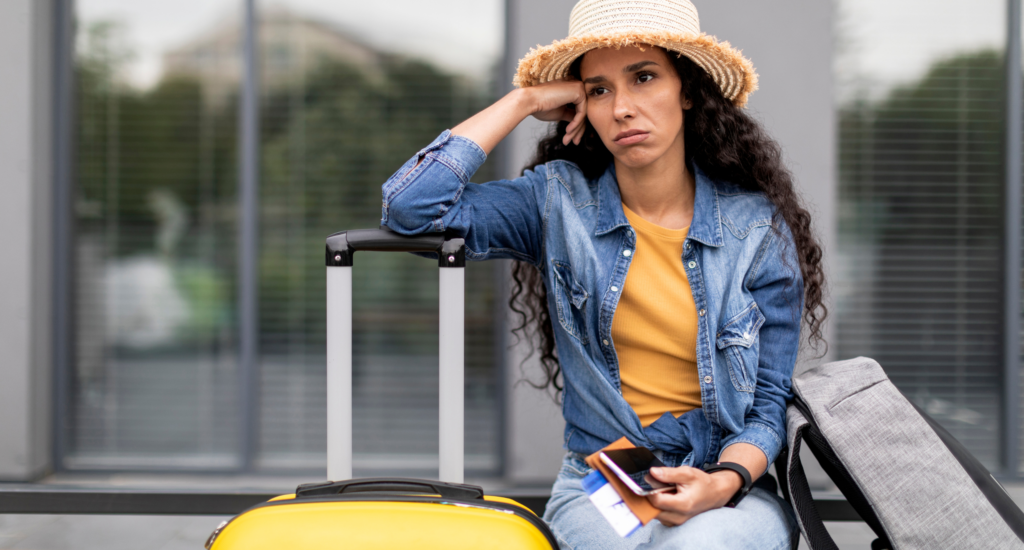 When you're going on a big journey, a question often comes up that can then take your mind on a long trip of its own: Should I get travel insurance?
Because suddenly you're thinking – should I? Is travel insurance really worth it? Or does one of my credit cards already cover it? Or maybe something else I've paid for covers it? Am I about to make a stupid financial mistake if I pay for travel insurance, or a colossal financial mistake if I don't buy it?
Let's start by covering the basics.
What is travel insurance?
First things first. Travel insurance is an insurance policy that will reimburse you for eligible expenses in the event that something goes wrong on a trip. It's that simple, or almost. For instance, if you go to Paris with your partner, who on the trip leaves you for someone else and you spend a week there wishing you had never come in the first place, your insurance probably won't reimburse you for the trip simply because you had a lousy time. (Still, read the fine print.)
But if you can't go to Paris because your partner needs to have an emergency surgery, and you're about to lose your nonrefundable airline tickets and hotel room deposits, your travel insurance likely has you covered.
What does travel insurance cover?
The first thing to know is that not every travel insurance policy is alike, which means that even if you are covered by the following situations, you still might not be covered if you have a no-frills cheap policy. But generally speaking, travel insurance covers:
A trip that is no longer happening due to a medical issue. For instance, you need to cancel because you're ill or injured. If it's a covered injury or illness, your travel insurance should cover the cost of eligible losses.
Lost or stolen baggage. The airline lost your luggage and now you have no clothes or basic necessities. An expensive laptop was in that suitcase. Etc. If you find yourself in this situation, your travel insurance should cover your losses.
Coverage that your credit card isn't covering. Do you have a credit card that has travel insurance? Great. Did something go really badly, and you've lost a fortune, and your credit card won't cover it all? Your travel insurance policy, if it's a good policy, might pay for what your credit card won't. Likewise, your credit card might pay what your travel insurance policy won't, if your travel insurance falls short.
➤ LEARN MORE:Guide to credit card travel insurance
Who should buy travel insurance?
You can certainly argue that anyone who worries about losing money on a trip should buy travel insurance, but the best candidates to purchase coverage are the following:
You have medical issues. If you have a lot of health challenges and can envision needing to cancel or postpone an expensive trip, you probably will want to get travel insurance.
You're traveling internationally. It's typically far more expensive to travel halfway around the world than a couple states away, so if you're spending a small fortune, there's a good argument that you should protect that.
Your life is very unpredictable and complicated. Right, whose isn't? Still, you know who you are. If family members are often needing your help or if your boss is constantly pulling you back into the office at inopportune moments, you might want to protect the $10,000 vacation you're planning.
When is travel insurance not worth it?
There are several instances where you probably don't need to spend money on travel insurance. Those situations are generally the following:
You're already covered. Some credit cards have travel insurance embedded in them. That is, as long as you purchased the airline tickets or hotel rooms and anything else for your trip, you may be covered by your credit card. Now, that's not a given. But before you would buy travel insurance, you should check your credit card's benefits to see if you have trip insurance and then the fine print in the terms and conditions to see the details.
You aren't traveling far. It's your money, and if you want to insure a road trip that will take you a couple states away, nobody's stopping you. But if you're weighing the risks and decide you don't want to add any more to what was going to be a fairly inexpensive trip, you're not being unreasonable. And, besides, if this is a road trip, between car insurance and health insurance, you're probably pretty well protected if something goes wrong.
Everything goes right. Well, that's how it is with all insurance, isn't it? If nothing went wrong, you "wasted" your insurance. But, of course, you are buying peace of mind with insurance.
How much is travel insurance?
As with anything, you get what you pay for. So how much does travel insurance cost? Policies range from "hey, that's pretty cheap" to "are you kidding me?"
Industry experts suggest preparing to pay an average of 4% to 10% of the cost of a trip. So if you're going on a big $10,000 European vacation – and, yes, you could spend a lot more on a trip to Europe – you'd likely pay $500 for your insurance. But it really comes down to what you're getting.
When it comes to the cost of travel insurance, all insurance companies handle these policies differently and won't label their policies, "cheap," "middle-range" and "expensive," but that's what it comes down to. Here's a quick look at what to expect.
Basic coverage
Often an insurance company will call their policy "basic." You'll probably be able to cancel the trip if you're sick (but you may need a doctor's note to prove it), and it'll likely cover lost luggage. You might have to pay a deductible, and there will be enough limitations that you may say, "Why am I paying for this?" So be sure to read through the policy carefully before buying.
Middle-range coverage
The travel insurance company you're dealing with may refer to it as "premier" or something like that. It's definitely going to have more coverage – the limits will be more generous – and you'll probably be able to cancel for more reasons.
Expensive coverage
This is the elite coverage that generally pays for virtually everything that could go wrong on a trip. If you get sick in the middle of nowhere and need a helicopter to whisk you off to a hospital, this would be the type of policy that might cover that. Many of these expensive policies will have features such as "Cancel for Any Reason" or "Interruption for any Reason" – but there are still generally restrictions with these, so, once again, read the fine print.
Also, don't assume that just because you're paying an exorbitant fee that you are covered for everything. It's possible to choose a policy that will pay a fortune to get you to an ER if you have a heart attack in the middle of an African savannah – but won't compensate you for the nonrefundable deposit you made at the expensive lodge you are staying. You'll really want to check to see what you're paying for before making any sort of commitments.
What to know about travel insurance
There are some rules of the road when it comes to travel insurance that everybody should recognize before paying for any policy. So here we go:
When you buy the insurance matters. You probably want to purchase it earlier rather than later. Kind of like health insurers don't like to cover people with preexisting conditions, you may have trouble buying travel insurance two hours before your flight when there's a blizzard coming, and it's pretty clear that it's going to wipe out your vacation plans. (You may still be able to get the policy, but it probably wouldn't cover that blizzard.)
Keep good records of your trip. If something goes wrong, you will likely need to show receipts to your insurer, to prove, for instance, that you did have an emergency appendectomy surgery on your trip to Brazil.
Don't assume that a travel insurance policy covers you everywhere. If you're traveling to a country that is known for its danger and civil unrest, there's a chance that your policy won't cover your travels there.
What to know about travel insurance and credit cards
As noted earlier, some credit cards do offer travel insurance. Just as with a regular travel insurance policy, some credit cards have excellent travel insurance policies that you're paying for, embedded in that annual fee you pay, making a secondary purchase of travel insurance likely a waste of money. We're talking features from baggage delay (you get money if your luggage is lost or delayed for six hours or more) to trip cancellation and trip interruption insurance to travel accident insurance that basically doubles as life insurance.
Other credit cards don't have travel insurance at all. And some have travel insurance, but basic or "cheap" insurance, where it's better than nothing but almost nothing.
Parting thoughts on travel insurance
If you're going on a big, expensive vacation or trip, you really should consider having some form of travel insurance, whether it's through your credit card or a stand-alone policy. If you've been planning a trip that is a very big deal, and you've sunk a lot of time into making it happen, and you're spending a lot of money, well… what's a little more?
The cost of travel insurance can be steep, but it's arguably worth that peace of mind. Worrying something is going to go wrong on a vacation is kind of natural, and don't worry – you'll still be able to worry. Fret away. But if you have travel insurance, you can worry about jet lag, rather than stressing that your vacation is ruined because you've missed your jet.