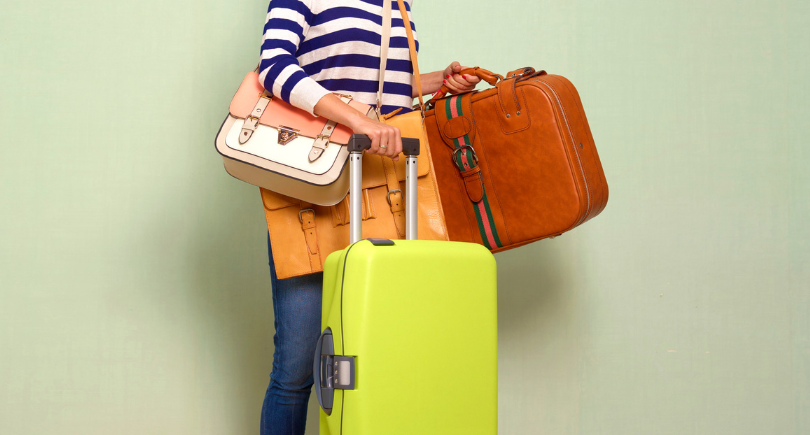 Travel rewards credit cards can open doors to experiences you never dreamed possible. But, as with many adventures, your experience will be all the sweeter (and easier!) if you take the time to learn a bit of the local language.
The world of travel rewards credit cards requires understanding the basics of credit cards and then earning rewards with those cards, but there is so much more to travel rewards than those basics.
Take the time to learn the lingo and you might discover that there's a VIP experience available through many travel rewards cards. And, good news, it's available to almost anyone willing to learn!
Furthermore, fully understanding the language around travel rewards credit cards – and, frankly, travel in general – could also help you decide whether a travel rewards card is right for your lifestyle and life stage.
"A travel rewards card is most beneficial for frequent travelers as they're able to put all of the card's perks to good use," says Elly Szymanski, assistant vice president of credit card products at Navy Federal Credit Union. "If you don't travel regularly, a travel rewards card might not be the best option for you, especially as these cards typically have annual fees and higher APRs. In this case, you may find more value in a card that earns you cash back on your everyday purchases."
Understanding what a travel rewards card can offer, as well as the terms you're likely to encounter in the Terms and Conditions document, is a first step toward making your travel rewards credit card dreams come true.
A
Airline rewards – Rewards (usually in the form of miles) awarded through a specific airline loyalty program and for redemption with that airline or its partners. Examples include Southwest Rapid Rewards and American Airlines AAdvantage Miles, among others.
Airport lounge – Member or pass access only rooms or spaces at airports. Some are specific to an airline and its passengers, such as the American Airlines Admirals Club or Delta Sky Clubs, while others are part of larger networks that are agnostic about which airline you're traveling with. Several premium credit cards offer cardholders included airport lounge access.
All inclusive – A category of accommodations that includes all meals, drinks and often other entertainment and sports, as a package along with your room charges.
ATM cash advances – A service through which a cardholder uses their credit card to withdraw money from an ATM. Cash advances often trigger fees and higher interest rates for that transaction. Still, an ATM withdraw in a foreign country often results in a better exchange rate than utilizing currency exchanges.
B
Baggage allowance – The weight, size and number of items you can bring on a flight.
Baggage delay insurance – Financial coverage if an airline loses or delays the arrival of your luggage during a trip.
C
Chip and PIN – Security features in certain credit cards. If a merchant requires a chip and PIN card, you will need a personal identification number (PIN) in order to complete your credit card transaction.
Co-brand credit card – A credit card tied to a particular brand and with which cardholders earn rewards toward that brand's loyalty program. Examples include the CardNamediscontinued or CardNamediscontinued (Information related to The World of Hyatt Credit Card has been collected independently by CardRatings and was neither reviewed nor provided by the card issuer)
Collision Damage Waiver (CDW); also known as a Loss Damage Waiver (LDW) – A type of auto rental insurance that specifically covers damage to the rental car and the agency's loss of use of the damaged card. This is the type of coverage most often offered by credit cards that include auto rental coverage as a cardholder benefit.
Concierge services – Special assistants available to help a cardholder with a variety of tasks and services, such as reservations, tickets, planning, travel hiccups and more. Different cards offer differing levels of service, ranging from basic assistance to extravagant planning.
Currency exchange rates – The rate at which one country's currency is converted into another.
➤ LEARN MORE: Do credit cards offer good currency exchange rates?
D
Double dipping – Credit card rewards strategy through which a cardholder earns multiple types of rewards for a single transaction. For instance, paying for a flight on a credit card to earn rewards with that credit card and then collecting loyalty miles on the flight itself. For instance, if you shop through a loyalty programs specific shopping portal, you could earn points for the transaction itself, but extra points on that same transaction since you went through the portal.
Dynamic currency conversion – A service through which a person who is traveling abroad or shopping with a foreign merchant can decide at the point of sale whether to make a purchase in the local currency or in that person's home currency.
E
Elite status – A classification system within some loyalty programs that rewards a brand's best or most loyal customers. Individuals earn status by frequently patronizing the brand or, sometimes, by simply carrying the brand's co-branded credit card.
Emergency evacuation and transportation coverage – Financial coverage should you need emergency medical evacuation or transportation during a trip.
Fixed value – Rewards that have a set value, often $.01 per point/mile, when redeemed. Contrast these fixed value rewards with those that can be redeemed via a reward chart that doesn't necessarily correlate with a real-world set costs.
F
Flexible rewards – Rewards for which redemptions aren't restricted to a particular loyalty program or redemption type. An example would be Chase Ultimate Rewards or American Express Membership Rewards.
Foreign transaction fee – The fee charged when you make a purchase on your credit or debit card in a foreign currency. The fee is assessed as a percentage – usually 2.5%-3% – of the purchase price. Avoid the fee by using a no-foreign-transaction fee credit card when traveling overseas or shopping with merchants who conduct business in foreign currency.
H
Hotel rewards – Rewards (usually in the form of points) awarded through a specific hotel loyalty program and for redemption with that hotel brand or its partners Examples include Marriott Bonvoy and Hilton Honors, among others.
L
Lost luggage reimbursement – Airlines are required to reimburse you up to a set amount should they lose your luggage.
Loyalty program – A rewards program, usually free to join, that allows individuals to collect rewards with a specific brand of hotel (Ex. Marriott Bonvoy), airline (Ex. American Airlines AAdvantage Miles) or other merchant. Individuals generally earn rewards by spending money with the brand or making purchases with a co-branded credit card. "Frequent flyer" programs are examples of loyalty programs
O
Open jaw – Roundtrip flight booked into one airport and out of another. For instance, if you book a roundtrip ticket to Paris and then flying home through London, you've booked an open jaw ticket.
P
Points/Miles – Common names for credit card travel rewards. Each card issuer determines what to call its specific rewards, but the name isn't necessarily indicative of how the rewards are earned or can be redeemed. For instance, Capital One Venture X Rewards cardholders earn "miles," but can redeem those miles for hotels, cruises, rental cars and much more. Might be good to link to this article here, or somewhere else. https://www.cardratings.com/travel/how-do-credit-card-issuers-define-travel.html
Priority boarding – A process by which some passengers can board the aircraft before others. Some airlines allow customers to purchase priority boarding status; additionally, it's often included as a perk for people who have earned loyalty status with the airline.
Priority Pass Select – Among the largest global networks of airport lounges and the most common network included as a credit card perk.
T
Transfer partner – A program to which credit cardholders can transfer their rewards. For instance, CardNamediscontinued holders who earn Chase Ultimate Rewards can transfer those points to their Southwest Rapid Rewards account in order to redeem those rewards as Rapid Rewards.
Transferrable points – Rewards that you can move from one program to another, often from a credit card rewards program, such as Chase Ultimate Rewards, to an individual branded loyalty program, such as Southwest Rapid Rewards.
Travel accident insurance – Protection for a wide range of accidental losses, including life, limb and other injuries, that occur during a trip.
Travel notice – A note a bank puts on your credit card account so that card transactions while you travel aren't flagged as possibly fraudulent.
Trip cancellation/interruption insurance – Financial reimbursement coverage should your trip be canceled or cut short because of a qualifying reason. Some credit cards offer this form of protection when you book all or part of your trip on the card.
Trip delay reimbursement – Financial coverage should your trip be delayed for a qualifying reason.
Trusted traveler program – Pre-screening programs, such as Global Entry or TSA Precheck, that allow qualifying travelers to pass more quickly through airport security.