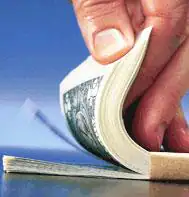 Gigantic welcome bonuses, strategic spending in specific categories or using your credit card for everyday purchases aren't the only way to rack up rewards.
Savvy consumers use another strategy to maximize bonuses: double dipping.
Double dipping can take several forms, from using a rewards card to book travel with your preferred airline and amassing miles or points through its frequent flyer program or making purchases through your credit card company's online shopping portal - in addition to getting credit card rewards.
If you haven't yet mastered double dipping or aren't sure how to employ this strategy, here are some helpful tips.
Double dipping with airlines
For beginners, the easiest way to double dip is to use your rewards card to make purchases with airlines, hotels or other brands where you're a loyalty rewards member.
The Chase Sapphire Preferred® Card, for example, currently offers a 60,000-point signup bonus - the equivalent of $750 when redeemed through the Chase Ultimate Rewards® travel portal. Your points also are worth 25% more you redeem them through the portal. This structure alone lets you maximize rewards. However, when you book a flight through Chase's portal your points are treated as cash, so you also earn rewards through the airline if you're enrolled in its loyalty program.
Let's say you're a Southwest Rapid Rewards member and book through Chase's portal. You'll earn Rapid Rewards points for the flight, based on Southwest's reward structure of anywhere from six to 12 points per $1 based on the fare type. The one caveat here is that each airline has its own rules and may limit the amount of points you earn for flights purchased through a credit card partner's site, since most of these fares are already deeply discounted (with Southwest, these points also don't qualify for what you need to earn the Companion Pass benefit).
To double dip effectively with Chase Sapphire Preferred® Card, you'll need to decide whether it's cheaper to book your ticket and if you'll earn more points by buying directly from the airline compared to the cost of the ticket and corresponding points you'd earn through Chase's portal. United Airlines, for example, has the right to exclude certain flights, fares or programs from earning miles in its MileagePlus program, so tickets booked through Chase's portal may not always qualify or may only earn partial points. Points for these tickets also don't qualify for United's Premier benefits. In this case, you may get more value when you transfer points to your preferred airline, since Chase has a 1:1 points transfer program with several major carriers, including Southwest, United and Virgin Atlantic.
The Discover it® Miles works in a similar way. It gives cardholders 1.5 times the miles for every dollar they spend, matches all the rewards a cardmember earns in their first year and allows them to redeem rewards for cash or a statement credit for their travel purchases (Bank of America also uses a statement credit, so this is also an option with the Bank of America® Travel Rewards credit card, for instance). With this redemption structure, both cards essentially reimburse you for purchases you've already made while allowing you to earn additional miles when you use them to book with your favorite airline - another way to double dip on credit card rewards.
Double dipping with online shopping portals
Chances are your credit card company or preferred airline has an online shopping portal. These portals are paydirt when it comes to double dipping.
Shop through Chase's Ultimate Rewards® portal and earn more points for purchases you then can redeem later for travel, gift cards or cash. Buy products from merchants like Neiman Marcus, Kohl's, Lenovo and Overstock in Southwest's Rapid Rewards Shopping portal and earn anywhere from two to four points per dollar for your spending.
Standalone rewards sites also let you double dip. The Thanks Again® rewards app, for example, lets Visa®, MasterCard® or American Express® cardholders earn reward points at more than 100 airports and thousands of merchants in or near these locations. American Express is a CardRatings advertiser. Members then can convert these points to miles, cash back or hotel points with participating merchants, including JetBlue, American Airlines, Hilton, Uber and more. You double dip by earning points with your card, your existing airline or hotel loyalty program and with the Thanks Again® app. The only downside is that some partner programs don't offer a 1:1 points transfer, so your Thanks Again® points may lose their value depending on where you redeem them.
Double dipping is part art, part science, but doing your research and capitalizing on your own loyalty to a brand - whether it be an airline or hotel - can help you maximize rewards across programs.
Featured Partner Cards