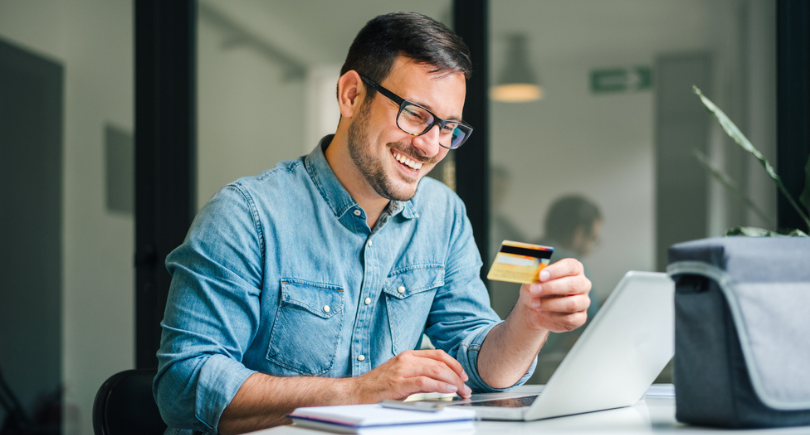 Credit card interest and fees can eat up a gob of your money.
From 2018 to 2020, Americans paid an estimated $120 billion per year in credit card interest and fees, according to the Consumer Financial Protection Bureau. That adds up to about $1,000 a year for each U.S. household.
In terms of the annual cost, paying credit card interest and fees tops the National Financial Educators Council's list of America's priciest financial mistakes. A survey by the council found that in 2022, the average per-person cost of financial illiteracy in the U.S. was $1,819. Overall, the council estimates that money lost to financial illiteracy exceeded $436 billion in 2022.
Unfortunately, America's biggest financial mistake keeps getting bigger, with the average credit card interest rate in the U.S. hovering around 20% in February 2023. That's the highest interest rate on record.
So, how do you avoid making this expensive mistake? Follow along for seven tips on how to steer clear of credit card interest and fees.
1. Pay off your full balance each month
Markia Brown, a certified financial education instructor, suggests wiping out your credit card balances each month. She explains that credit card issuers generally apply interest at the end of a monthly billing cycle. If a cardholder pays the entire balance before that interest kicks in, they can dodge interest charges.
Digital Banking Executive Tommy Gallagher says this is a simple but effective way to not only elude interest but also to fend off those pesky fees for late payments.
The Consumer Financial Protection Bureau has proposed dropping credit card lates fees to $8 from as much as $41, and capping late fees at 25% of the minimum monthly payment for a credit card. The bureau says this could save consumers up to $9 billion a year.
"Over a decade ago, Congress banned excessive credit card late fees, but companies have exploited a regulatory loophole that has allowed them to escape scrutiny for charging an otherwise illegal junk fee," Rohit Chopra, the bureau's executive director, said in a news release.
Banks and credit card companies have pushed back against the proposed decrease in late fees. They say the proposal would drive up the cost of lending money to credit card holders.
"Millions of Americans rely on credit cards to make everyday purchases and cover emergency expenses," Lindsey Johnson, president and CEO of the Consumer Bankers Association, said in a statement. "It is deeply unfortunate and puzzling that policymakers would take action that could ultimately limit consumers' access to these valued financial products at a time when they are needed most."
➤ LEARN MORE:Do late credit card payments affect your credit score?
2. Make multiple payments each month
Making more than one payment per month can help you chip away more quickly at a credit card balance. The balance dictates how much interest you pay, so multiple payments can lower your monthly balance and lead to reducing or even eliminating interest charges for that month.
Keep in mind that your credit card account has two balances:
The statement balance reflects all of the transactions, interest, fees and payments that popped up on your account during one billing cycle, lasting 28 to 31 days.
The current balance shows what you owe at a certain point in time. It can go up or down based on the transactions, interest, fees and payments that have posted to your account since the end of the last billing cycle.
Knowing both of these balances can give you ammunition in the battle against credit card interest and fees.
3. Charge only what you can afford
If you don't go overboard with credit card spending, you might be able to avoid or at least minimize credit interest and fees.
To help stay on top of your spending, establish a monthly budget that tallies your income (namely your paycheck) and expenses (such as credit card payments).
4. Create payment alerts
Setting up payment reminders can help curb credit card interest and fees, according to Trinity Owen, a certified financial education instructor. These reminders notify you when your next credit card payment is due so that you don't miss a payment and incur a late fee.
Credit card issuers typically enable you to create payment reminders through their websites or apps.
Similarly, you might consider setting up automatic monthly payments for your credit card bills so all of your payments are made on time. You typically can do this through your financial institution or credit card issuer.
5. Read your credit card statement
Going over your monthly credit card statement allows you to look for billing errors or unauthorized charges that might trigger late fees or interest charges.
In addition, the statement:
Highlights fees and higher interest rates that could kick in if you make a late payment.
Shows an estimate of how long it could take to pay off your balance if you make only the minimum monthly payment.
Gives an estimate of how much you'd likely pay (including interest) to wipe out your balance over the course of three years.
Make sure to also pay attention to details like foreign transaction fees and cash advance fees. It's knowing details like these that can help you prevent fees from adding up.

To be a responsible credit card user, it's important to read all the fine print and understand the numbers and terms on the statement. If you don't, you may end up with more credit card debt than you can handle.
➤ LEARN MORE:Common credit card fees and how to avoid them
6. Look into balance-transfer offers
It's worth exploring a balance-transfer offer that gives you an introductory period (such as 12 or 15 months) of 0% APR or a low APR. This could help you get on top off an existing balance without interest charges weighing you down.
If you do sign up for a balance-transfer offer, be sure to pay off the entire balance before the introductory period ends and a higher APR takes effect. Otherwise, you might end up canceling the benefit you gained from the balance-transfer offer in the first place.
7. Consider a rewards credit card
Rewards offered by a credit card, such as cash back and airline miles, may offset interest and fees that the card issuer charges.
"Just be sure to read the terms and conditions of the rewards program carefully before using it, as some rewards cards may have higher interest rates or annual fees," Gallagher says.
Of course, if you're not careful, the interest and fees could erase any financial benefit you enjoy from the rewards — especially if you don't pay off your full balance each month.
➤ LEARN MORE:Are credit cards with annual fees worth it?