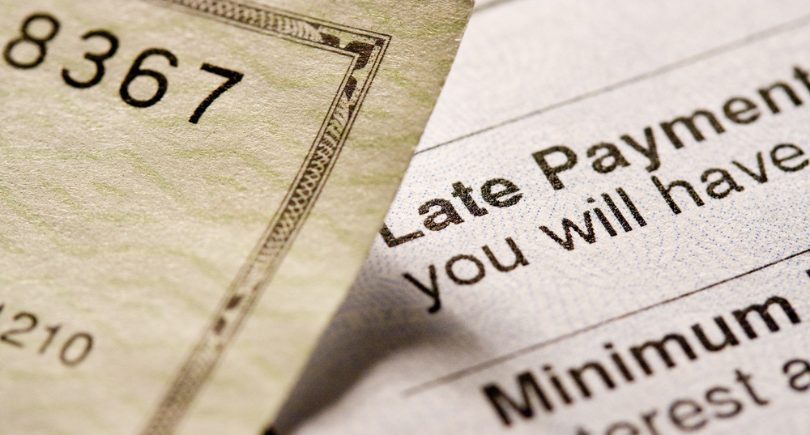 A recent proposal by the Consumer Financial Protection Bureau (CFPB) to cap credit card late fees at $8 (the current average is $31) has created a lot of pushback from banking lobbyists, as you might expect. However, even consumer advocates like myself have expressed concerns about potential unintended negative consequences for consumers.
While I'm not against financial debates, particularly when they involve consumers, I prefer to spend my time teaching consumers how to eliminate late fees in the first place. Similarly, you can use certain strategies to convince a bank to refund a late fee – we all make mistakes right?
I try to practice what I preach and can't remember the last time I paid a late fee. And I've been a cardholder for 30-plus years. This is not because I've never been late, but because I've mastered the art of advocating for myself (this self-advocacy led to the publication of my book, How You Can Profit from Credit Cards). While I'm rarely late, I'm proud to say I've had multiple late fees reversed over the years.
So, the goal of this article is to simply share insider tips related to eliminating late fees. I firmly believe that I can help you avoid paying late fees regardless of whether the CFPB's proposal is successful.
Late fees vary A LOT by card issuer
I'll let you in on a dirty little secret of the card industry: Late fees vary significantly by issuer. Furthermore, one issuer may have dozens of cards (or more) and have multiple pricing structures. In simple English, the amount of a late fee is not universal and it pays to comparison shop.

For example, credit unions and smaller banks often charge lower fees than big bank cards. According to the CFPB, most smaller banks and credit unions only charge a maximum late fee of $25. So, if palatable late fees are important to you, consider shopping for a credit union or small bank card.
"I would urge you to see if a credit union would be willing to work with you," advises Donna Freedman, longtime personal finance journalist and author of the "Your Playbook for Tough Times" series. "Even if there aren't credit unions where you live, you might be able to join online. For example, PenFed [Pentagon Federal] Credit Union is open to anyone who wants to join.
Interestingly enough, while doing research for this article, I noticed that Pentagon Federal (PenFed) Credit Union CardNamediscontinued has a tiered structure for late fees that varies based on your balance.
In short, it's wise to consider the total cost of a card (not just the interest rate and/or rewards) before you apply.
BONUS TIP!

Want a lower fee card? You should also consider potential downsides of dumping your current card in favor of one with lower fees.

"I personally wouldn't change cards just for a lower fee unless the new card had better perks overall, such as a decent credit limit, better reward options or purchase protection," Freedman notes. "Changing cards will also have some slight [negative] effect on your credit score."
What's better than a capped late fee? No late fee!
Whether the CFPB is successful in capping fees at $8 won't matter to certain cardholders. It may be shocking to you, but there are popular cards that boast zero late fees… as in "zero, zip, zilch, nada"!
For example, the CardNamediscontinued and the Apple Card, charge no late fees no matter how many times cardholders miss their due date. (All information about the Apple Card has been collected independently by CardRatings)
You might be thinking that there has to be a catch, such as a high APR or high foreign transaction fees. But both cards are actually quite attractive if you look at all their overall terms and conditions.
The Apple Card boasts no annual fees, no foreign transaction fees and a competitive rewards program. Citi Simplicity® boasts a 0% intro APR for 12 months on purchases and an impressive 0% intro APR for 21 months on balance transfers from the date of first transfer (BalanceTransferFees; after the intro periods, a RegAPR APR applies). While Simplicity does not have a rewards program, it also features no late fees, no penalty rate (a rarity) and no annual fee.
BONUS TIP!

No matter how low the late fee cap, fees can obviously add up over time even if you pay late occasionally, particularly if you have multiple cards. If you have a problem paying in a timely manner, limiting the number of cards that you actively use can help you avoid getting hit with multiple fees and also make your finances simpler.
Three ways to avoid paying credit card late fees
Automate your payments
Unless you are fortunate enough to have a card with no late fees, the best way to avoid paying a late fee is by being proactive and savvy.
One savvy approach is to set up automatic monthly payments that will pay at least your minimum amount due.
"Automate at least the monthly minimum payment," Freedman advises. "Personally, I pay my card bill as soon as it arrives – but even so, I have an auto monthly minimum payment in place, on the off-chance that something keeps me from paying.
"For example, if there were a family emergency, I might not get around to paying before the due date – and on-time payment makes up 35% of your FICO score. So it's important to pay on time!"
Freedman also suggests setting a monthly reminder on your phone or email calendar such as: "Bill due in five days." That way you can pay in full if you're able, and if you're not you can pay as much as you can afford.
BONUS TIP!

Card issuers generally offer text and email alerts that can notify you when your payment is coming due. These alerts are quick to set up through the issuer's app or online through the issuer's website.
Request a different due date
Changing your payment due date can also help you avoid late charges and possibly better manage your cash flow. For instance, request that your due date coincide with your pay cycle.
"Ask your card issuer to change the monthly due date to a date shortly after your paycheck hits your bank account if that helps you have the funds to meet the payment deadline," says Ruth Susswein, director of consumer protection for Consumer Action, a consumer education and advocacy organization.
What is the best way to get a credit card late fee reversed?
If you get hit with a late fee, don't despair! Even the most responsible cardholders pay late… even if only on a rare occasion.
The good news is that banks do refund late fees… as long as you're not habitually late. The key is to be proactive.
"If you normally do not pay late, but had a glitch [in making your payment], call your card issuer and ask them to waive the late fee," Susswein explains. "If you have no history of paying late, mention that and if you're a long-term cardholder, mention that too!"
Such proactive approaches are often successful and only take a few minutes. Be aggressive, but polite and professional.
Steve Joules (named changed to protect his identify), has been a savvy cardholder for many years and has gotten several big late fees credited back to his account. He shared the following strategy:
Final thoughts
No one likes paying late fees. The good news is that, barring a financial emergency, it's my firm belief that you shouldn't ever have to pay a late fee (again, regardless of whether late fees are ever capped further).
And, if you do get dinged with a fee once a year or so, a 10-minute phone call is probably worth the effort if it saves you $31 (that's equivalent to earning $186 dollars per hour!).
I sincerely hope these insider tips are helpful to you and would love your feedback on your personal experiences with late fees or fees in general. Who knows, I may include a tip from you in a future article. Best wishes in using cards to your financial advantage and Happy Summer!