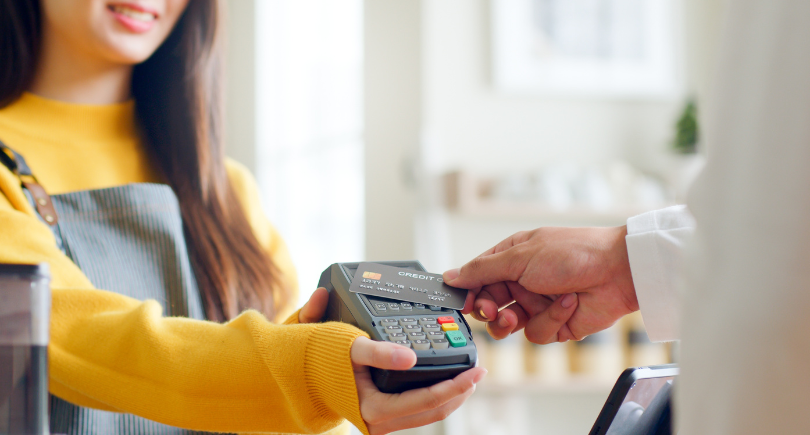 It seems to happen to everyone at least once: you make a credit card purchase expecting to earn bonus rewards points, only to have those points never materialize.
Why is that?
Often, the answer lies in merchant category codes (MCC). These four-digit codes are used by credit card companies to determine if a purchase qualifies for category-specific bonus points.
Although the codes were created for business and tax purposes, anyone who uses rewards credit cards should understand what these codes are and why they are important.
What are merchant category codes?
A variation of merchant category codes has been in use since the 1930s when the government created the standard industrial classification system to categorize businesses. More recently, the modern merchant category codes were developed to identify what goods and services a business provides.
In 2004, the IRS began using the codes as a way of determining whether certain payments were reportable for tax purposes. And today, the International Organization for Standardization (ISO) helps maintain a uniform system of merchant category codes.
While many of the same codes are used by credit card companies, they issue them differently. For example, what Visa categories as a secondhand store, Mastercard may consider an antique shop. These differences help explain why one credit card may reward purchases at Walmart as "groceries" while others do not.
How to find a business's merchant category code
Unfortunately, there is no centralized database for consumers to search for merchant category codes. While you can find merchant manuals online from Visa, Mastercard and some card issuers, such as Citi, these don't include the specific MCC code for most businesses. Instead, they provide an overview of how they define the businesses for each category code.
With the exception of some travel-related businesses – such as airlines – which have their own codes, the only way to know for sure which MCC code applies to a certain purchase is to ask. If you want to know whether a purchase at a specific retailer will earn bonus rewards points, contact your card issuer to confirm how that company's transactions are processed.
List of popular merchant category codes
While each credit card company may customize their merchant category codes, all typically use the following uniform breakdown of codes by industry or broad merchant category.
Specific travel merchants
Professional services and membership organizations
Codes within the 3000s are reserved for specific travel and entertainment businesses such as airlines, hotels, resorts and car rental companies. For instance, MCC code 3000 is for United Airlines, 3395 is for Thrifty Car Rental and 3650 is for Red Roof Inns, as categorized by Visa and Mastercard.
Other companies get assigned merchant category codes based on what goods or services they provide. Here's some examples of codes for purchases which may qualify for bonus rewards points.
Cable, satellite and other pay television and radio services
Grocery stores, supermarkets
Eating places and restaurants
Tourist attractions and exhibits
Why are merchant category codes important?
Credit card companies rely on merchant category codes to determine what rewards a purchase earns. If your card awards bonus points for groceries, but your store of choice has an MCC code that indicates it is a wholesale club or discount store, you likely won't see those bonus points.
In fact, this is exactly the scenario that frustrates so many Walmart shoppers. While some cards offer bonus rewards for grocery purchases, trips to Walmart typically don't qualify, often because the retailer is coded as a discount store. Likewise, gas stations attached to superstores or warehouse clubs may not qualify for bonus rewards for gas.
➤ SEE MORE:Understand rewards exclusions, merchant category codes to earn top rewards
The easiest way to know whether a specific retailer will qualify for bonus rewards is to make a purchase and see how it is processed by your card. Most online card accounts and monthly statements clearly state a business category for each transaction and whether bonus rewards were earned.
How to use merchant category codes to maximize credit card rewards
Knowing the merchant category codes of the stores where you spend the most money can maximize your credit card rewards by helping you do the following:
Select the right card: You want to match your card to your spending. If you do the bulk of your grocery shopping at Costco, a grocery rewards credit card probably isn't right for you. Instead, you might want a card like the card_name which offers bonus cash back at both grocery stores and wholesale clubs. (

card_name

cardholders earn 3% cash back in an eligible choice category, automatic 2% at grocery stores and wholesale clubs (up to $2,500 in combined choice category/grocery store/wholesale club quarterly purchases), and unlimited 1% on all other purchases.)
Shop strategically: Many stores sell more than one category of products so if you find a store with an MCC code that provides bonus rewards, see what else you can buy there. To stick with the grocery example, the Midwest chain Meijer has a product selection similar to that of a Walmart superstore, but it is coded as a grocery store. If you have the card_name, that means you can get up to 6% cash back there on everything from food to clothes to sporting goods. (

card_name

cardholders earn 6% cash back on the first $6,000 spent at U.S. supermarkets each year and then 1% on purchases after that. You also earn 6% cash back on select U.S. streaming subscriptions, 3% cash back on transit and gas purchases at U.S. gas stations, and 1% cash back on other purchases.) American Express is a CardRatings advertiser.
Choose flat-rate rewards: Maybe this all sounds very complicated, and you'd rather not have to worry about merchant category codes and whether a purchase will qualify for bonus rewards. In that case, you may find a flat-rate rewards card – such as the card_name— is a better fit for you. These cards give the same points, miles or cash back regardless of what you buy.