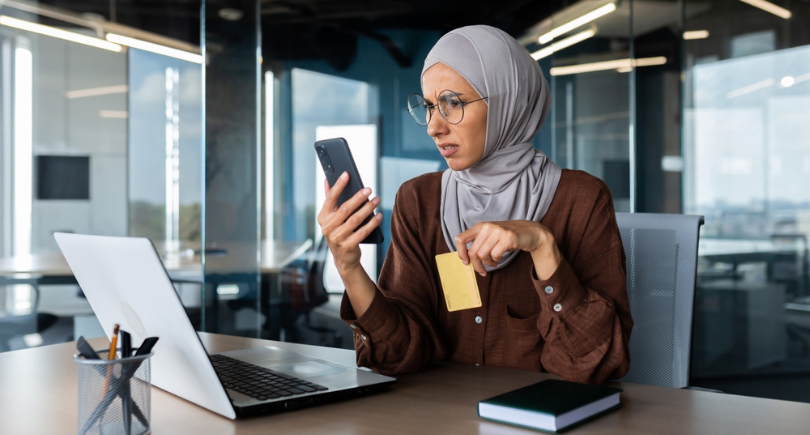 Credit card fraud plagues America.
In 2022, more than 150 million Americans — or about two-thirds of cardholders — were victims of credit card fraud, according to a security.org report.
Further evidence of the problem: Credit card fraud tops the list of identity theft cases reported to the Federal Trade Commission (FTC) in 2022.
The FTC received 441,882 reports in 2022 of information being misused with an existing card or when applying for a new card. Credit card fraud involving existing accounts jumped 23% from the previous year, and credit card fraud involving new accounts went up 13%.
What is credit card fraud?
Simply put, credit card fraud is the theft and unauthorized use of your credit card information. This fraud comes in the form of using your information to make fraudulent purchases or to set up a new account in your name.
"Although many of the major credit cards offer zero liability on fraudulent purchases, it's still your responsibility to be on the lookout for fraud and to report suspicious transactions as soon as possible," says the Washington State Department of Financial Institutions.
What are the most common types of credit card fraud?
What follows are six common types of credit card fraud and how to avoid them.
1. Card-not-present fraud
Card-not-present fraud is a multibillion-dollar problem.
A forecast from Insider Intelligence and eMarketer envisions nearly $9.5 billion in losses due to card-not-present fraud in 2023, representing almost three-fourths of losses caused by card payment fraud. The projected losses for 2023 would be 8.3% higher than the losses from card-not-present fraud in 2022.
So, what is card-not-present fraud?
Card-not-present fraud refers to fraudulent credit card transactions made online, over the phone or by mail. It occurs in cases when a physical card is not handed over to a merchant to make a purchase.
Generally, card-not-present fraud takes place after a credit card or information on a credit card has been stolen or has been purchased illegally on the "dark web." Information that a crook might grab includes your name, your address, a card number, the card's expiration date and the card's three- or four-digit security code.
A common type of card-not-present fraud happens when a customer adds a purchase to a cart on an e-commerce website and completes the transaction by entering their card information. While the transaction is taking place, a thief may be able to electronically steal the customer's card information — without the customer being immediately aware of it.
➤ SEE MORE:'The Last of Us' helps shed light on credit card fraud and video game scams
2. Application fraud
As the name suggests, application fraud occurs when someone opens a credit card account in your name without your permission. A fraudster might accomplish this by stealing some of your personal information or creating fake documents to set up a new account.
➤ SEE MORE:Protecting your credit following identity theft: A step-by-step plan of action
3. Skimming
Fraudsters often steal your credit card information when you least suspect it.
For instance, some crooks illegally install devices on ATMs, payment terminals or fuel pumps to "skim" your card data or PIN. With this data, thieves then can create fake credit cards or carry out unauthorized transactions.
These devices read and store data that's transmitted via the magnetic stripe on the back of your card when you swipe it at an ATM, payment terminal or fuel pump.
4. Lost or stolen cards
It happens: You credit card is lost or stolen, and now you're in a panic.
Fortunately, federal law guarantees that you'll never be responsible for more than $50 in unauthorized credit card transactions. Plus, a number of credit card issuers provide $0 fraud liability for unauthorized transactions made with a lost or stolen card.
➤ SEE MORE:What do you do when you lose a credit card on vacation?
5. Account takeovers
An account takeover can be a pain in the you-know-what.
"When account takeover attempts are successful, the cost for the customer can be monetary as well as lost time and frustration when they try to undo the damage that's been done," says LexisNexis Risk Solutions, which collects and sells an array of consumer data.
In an account takeover, cybercriminals hijack an online account to make purchases, for instance, or to access data that they then use or sell. The data they might steal includes your usernames, passwords, email address and Social Security number.
In many cases, these fraudsters sneak into your account using stolen data they purchased online.
➤ SEE MORE:How to dispute and fix credit report errors
6. Phishing scams
In a phishing scam, a cybercrook is fishing for valuable data such as passwords, account numbers or Social Security numbers. They try to grab this data through emails, text messages or fake websites that direct you to click on a link or download an attachment. Once you click or download, the crook may be able to dig into your trove of data and steal some of it.
➤ SEE MORE:Romance scams and credit cards: How to avoid falling victim