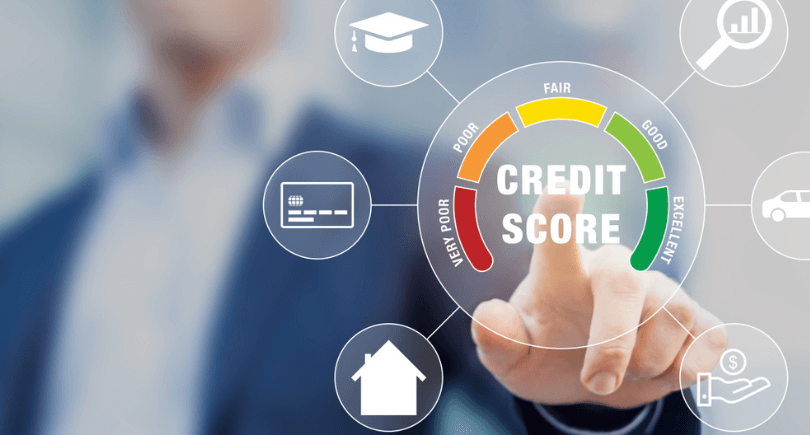 When you make good financial decisions and changes, you don't normally expect your credit score to go down as a result. In most cases, what's best for your total financial picture is also good for your credit score, at least in the long run.
Credit scoring models don't always work how you would expect, however. Sometimes, perfectly sound money decisions can lower your credit score, either temporarily or permanently.
If you don't track your credit score regularly, you may never even notice minor ups and downs in your score. If you need to optimize your credit score– for example, before you apply for a mortgage, or if you're just competitive about having a high credit score– seeing a sudden dip in your score can be alarming.
Knowing how various decisions can affect your score can help you avoid making them when you need to optimize your credit, or at least helps you not panic when you see a lower score. Here are some changes you should watch out for:
1. Paying off an installment loan or mortgage
You would think paying off debt would always be good. When I sold my house and downsized earlier this year, I thought paying off my mortgage and HELOC (home equity line of credit) would raise my score. After all, the history of my on-time payments remains on my credit report. Instead, not having a mortgage or HELOC lowered my score significantly. Living mortgage free is far better for my total financial picture, however, so I'll just live with a slightly lower score.
2. Opening a new account
I seldom open new credit card accounts; in fact, I've had one of my cards for over 20 years. I couldn't resist a new rewards card last year, but applying for and getting another card lowered my credit score. It wasn't a huge dip, and I knew it would be temporary, but it was noticeable.
3. Not having a mix of credit types
After I paid off my mortgage, the remarks on my credit score report said I didn't have sufficient credit "mix." In other words, I need different kinds of credit to boost my score. Other types of credit could be a car loan, buying something like carpet or furniture, or other installment debt. When I bought my car, I financed part of it, which improved my credit mix.
4. Car loans and other non-credit card accounts with high balances
Surprise! Because my car loan is new, the amount I owe is close to the original loan amount, which affected the proportion of my loan balances to my loan amount. My car loan improved my credit mix, but in the short term that improvement was cancelled out by my high loan balance. If I had it to do over and wanted a near-perfect credit score, I might finance a larger amount of the purchase price and then promptly pay down a large portion so the amount I owe is a smaller percentage of the original loan.
When should you worry about small changes to your credit score?
Small fluctuations in your score are inevitable and shouldn't worry you. It's only human nature to become competitive when any kind of score is involved, however. If a top FICO score is 850, you might really, really want that 850 score or something close to it. Realistically, you likely won't get better loan offers or other advantages with an 850 score over an 810 score, or even a score in the high 700s. A score of 850 may give you bragging rights, but you wouldn't bring that up at parties (I hope).
On the other hand, if your credit score is close to the cutoff for a higher or lower score, small changes in your credit score can significantly affect your finances. Say you have a credit score of 750. Many lenders give their best terms to borrowers with scores of 740 and above. If you are planning to finance a home, even the smallest change like getting a new credit card could push your score down into another bracket. If that results in even a slightly higher interest rate, you could pay thousands of dollars more in interest expense over the life of the loan because of what seems like an insignificant financial move.
Knowing your credit score, how you plan to use it, and the level you need for your purposes is the best way to know when to be concerned about small or temporary changes to your score.
➤ LEARN MORE: A guide to understanding different credit scoring models
How can you minimize negative effects to your credit score from things you might not expect?
You can't always reconcile optimizing your credit score with making your best financial decisions, but you can minimize the damage.
Here are some things you can do to minimize the impact of some changes to your credit history:
Check your score regularly and read the attached remarks. Many financial institutions offer a monthly credit score update. They report not just your estimated credit score, but also comments about the factors that impact your score, such as too many credit cards with balances or too much credit utilized.
Keep credit card balances low during the month. You may need to make more than one payment per month to avoid having your credit usage reported at the high point, right before you make your monthly payment. If you make a large purchase on your card, consider paying it off immediately, instead of waiting until your payment is due.
Consider raising credit limits to improve credit utilization. Credit utilization accounts for about one-third of your credit score. By raising your credit limit, you immediately improve your credit utilization because you are using a smaller percentage of your credit.
Close excess credit card accounts. There's no perfect number of credit cards you should own and use. You generally need more than one, as you've discovered if you've ever been traveling and had a problem with your card. Half a dozen may be too many to keep good track of, and could lower your score. Try to keep some of your oldest cards, because they help the "length of credit" portion of your score.
Watch your credit mix, to a point. If you're buying a car, washing machine, or other asset and you can get a low or no-interest payment plan, consider paying on time to improve your credit mix. Do not take on new debt if there's any doubt about whether you can keep up with the payments, or if it will cost you significant interest expense you could avoid. Most importantly, never buy things just to improve your credit.
Don't apply for unnecessary new credit when your score matters. Applying for new credit causes a temporary dip in your score, so wait until after you get your new mortgage to apply for a credit card. Or get the new credit far enough in advance that the temporary dip is over, and your history of on-time payments actually helps your score.
Bottom line, should you make financial decisions based on how they affect your credit score?
Credit scores are important. You never know when you may need your credit score to be at its best, even if you don't expect to apply for a loan in the near future.
On the other hand, your total financial health, including your budget, debt levels, and the amount of interest expense you pay, is even more important than your credit score. If striving for a perfect credit score changes your financial decisions for the worse– for example, buying a car mainly to improve your credit mix– your financial health will suffer. In fact, less optimum financial decisions made primarily for the sake of your credit score are likely to lower your score in the long run.
By understanding how your credit score works and when you should worry about it, you can make good decisions to maintain your optimum credit score– but never at the expense of achieving your long-term financial goals.