Jasper Mastercard® Review
The Jasper Mastercard® offers an easy application process with no credit check or Social Security number required, which could make it easier to build credit.
By
Christina Majaski
CardRatings Contributor
|
Updated
Our credit card articles, reviews and ratings maintain strict editorial integrity; however we may be compensated when you click on or are approved for offers (terms apply) from our partners. How we make money.
Jasper Mastercard®
CardRatings Editor's Analysis: Pros & Cons
There's no credit check or Social Security number needed to qualify for this card, so applying should be quick and painless.
Jasper Mastercard has no annual fee.
Qualify for a credit line of up to $5,000.
This card does not offer rewards.
Jasper Mastercard® (formerly Creditstacks Mastercard) is something of a unicorn in the industry - a card in the marketplace offering some rare, if not unique, features.
That said, it is clearly not for everyone. The target market for the card is a select niche. It's well-suited for high-income professionals with no prior credit history in the United States. This can include recent college graduates but, more often, it describes recent immigrants, in the country on work visas.
What makes Jasper Mastercard® so attractive to new immigrants is that even with no credit history, applicants with a strong income can get a credit limit of up to $5,000. And, as a special promotion, if you apply by Oct. 31, 2020, you can receive a $50 Amazon gift card upon activation (use promo code CardRatings; terms apply).
Looking for a card with a low interest rate? This card checks that box. Once approved, your interest rate will be 15.49% Variable.
Another valuable benefit is its Cellular Wireless Telephone Protection. If you pay your monthly cell phone bill using your card, you are covered in case your phone is stolen, lost or damaged. This benefit not only can save you several hundred dollars in replacement costs, it can provide peace of mind.
It also includes extended warranty up to one year on all purchases made with your card. The extended warranty will double the manufacturer or store warranty if it is 12 months or less, meaning your warranty could reach up to 24 months.
When it comes to the subject of fees, Jasper Mastercard® knocks it out of the park. There is no annual fee and no fee for foreign transactions. The latter is especially important for those in the United States on work visas, who may be travelling frequently for business or returning to their native country for regular visits.
Beyond card usage and on-time statement payments, this card uses its website as a tool to help cardholders build a strong credit score. The site's "Knowledge Center" has sections on financial terms, fiscal wellness, avoiding debt and building credit. This information can help new cardholders avoid common mistakes.
Of course, cardholders also have access to a plethora of Mastercard perks, including price protection, discounts on airport concierge service, discounts and upgrades with select hotels and airlines and access to exclusive events in 82 countries.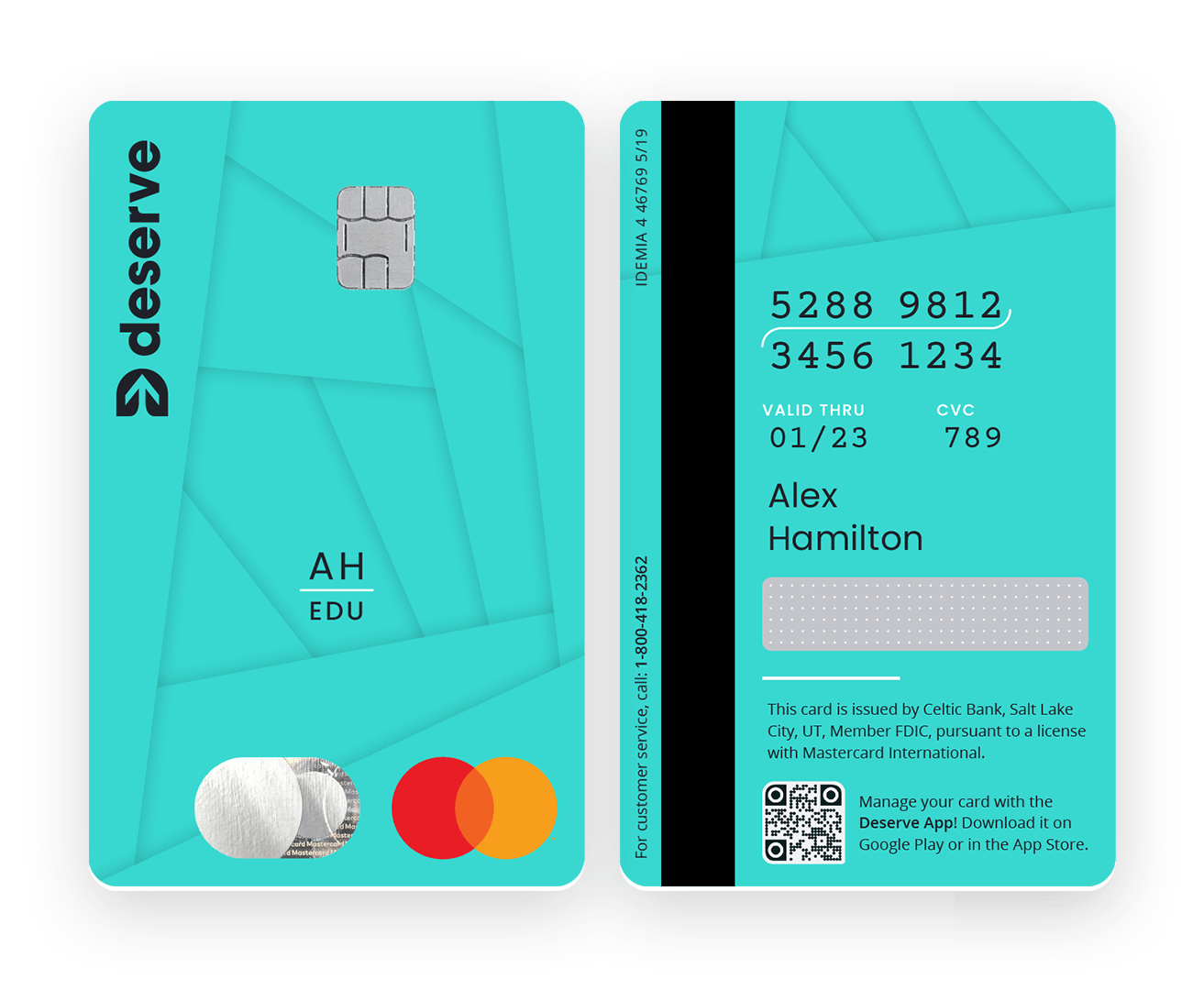 Receive one year of Amazon Prime Student on Deserve after spending $500 in the first three billing cycles with your EDU card (Lifetime Value of $59).
Earn 1% Cash Back on all purchases with your Deserve EDU Mastercard. Once approved, you'll automatically start earning cash back on all purchases.
Feel secure with cell phone protection up to $600.
No deposit required. No annual fees.
No international transaction fees on purchases abroad so you can travel with confidence.
No Social Security Number required for international students to apply.
Refer A Friend Program: Refer anyone to Deserve using your personal referral code. Upon approval, card activation and use, you'll receive $30 and so will your referral. Referral bonuses are unlimited!
Manage and track your spending, set automatic payments and securely freeze your card all through one easy to use app.
See if you prequalify with no impact to your credit score in minutes.
Deserve Mastercards are issued by Celtic Bank, Member FDIC.
Enjoy Mastercard Platinum Benefits intended to make your life easier like Mastercard ID Theft Prevention™ and Master Rental®.
The Jasper Mastercard® application process is simple and pain-free. If you are new to the United States or simply have no credit history, credit scores, Social Security number and Individual Taxpayer Identification Numbers are not required. It should be noted, however, that a Social Security number will be required within 60 days of your new card being activated.
If you have resided in the United States for at least one year, or have any type of credit history, a Social Security number will be required and a credit check will be done.
What you will need to provide is information about your employment. As another convenience, for those starting a new position, you may apply up to 60 days before your first day on the job
At present, Jasper Mastercard® is not offering a rewards program. However, according to its website "Rewards" page, one will be unveiled shortly. Describing itself as having thrown out "business-as-usual", the card issuer promises to do the same thing with its rewards program. The company will soon unveil a program that will be "different from any credit card rewards program you've seen before."
This is one of the areas in which Jasper Mastercard® clearly distinguishes itself from others in the market. It does not require you to have any established credit at all to be approved. Rather, it bills itself as a company which views a cardholder's potential, with significant weight given to the applicant's job and income.
One major drawback of the Jasper Mastercard® is the lack of any type of rewards program, at present. Card users have grown used to earning cash back or accumulating points or miles they can redeem for perks. However, the company claims a rewards program will be available in the near future.
Another benefit this card is lacking is any type of "new cardholder offer." While the standard APR offered is lower than other rates, there is no introductory rate and no special rate for balance transfers.
Jasper Mastercard® vs. OpenSky® Secured Visa®
OpenSky® Secured Visa® Credit Card, like Jasper Mastercard®, requires no credit check when you apply. However, unlike Jasper Mastercard®, OpenSky® Visa® is a secured card, requiring a deposit of at least $200 to open the account. As a secured card, your credit limit is restricted to the amount of your deposit. Jasper Mastercard® gives a credit limit of up to $5000 with no deposit required.
Although the Jasper Mastercard® charges no annual fee, OpenSky® Secured Visa® charges an annual fee of $35.
Jasper Mastercard® also offers a more attractive interest rate (15.49% Variable compared to 17.39% (Variable).
Both cards offer the chance to establish positive credit for new cardholders and neither offers an introductory rate or a rewards program.
Jasper Mastercard&REG vs. Deserve EDU
There are many similarities between Jasper Mastercard&REG and Deserve EDU. But the fundamental difference is the target market. Jasper Mastercard&REG markets to young professionals with no credit history and immigrant professionals in the USA on work visas. Deserve EDU markets to immigrants in the USA on student visas and other students with little or no credit history.
Neither card requires a Social Security number or a hard credit check as part of your application. Both use non-traditional methods for determining credit worthiness. Jasper Mastercard uses information relating to your job and employer. Deserve Edu looks at such things as your checking account information or college major.
Neither card charges an annual fee or foreign transaction fees and neither requires a deposit or hard credit check. Both offer the perks that come with Mastercard membership.
Jasper Mastercard&REG has a significantly lower interest rate (15.49% Variable compared to 18.74% Variable). While Jasper Mastercard® presently offers no rewards program, Deserve EDU offers cardholders the chance to earn a modest 1% cashback on all purchases.
Neither card has any type of introductory offer but both offer credit limits of up to $5000. Deserve EDU also offers cardholders a complimentary Amazon Student Prime membership.
Jasper Mastercard&REG vs. Upgrade Card
While Jasper Mastercard&REG and the Upgrade Card are very different cards, they share a common objective - helping cardholders build a positive credit report and avoid the pitfalls of mounting debt.
Jasper Mastercard&REG addresses this goal with its "Knowledge Center", a page on its website that offers a treasure trove of information on good fiscal habits, methods of building credit and ways to avoid amassing uncontrolled debt.
The Upgrade Card offers a unique statement every month that shows a cardholder how much it will cost them to pay off their balance over a period of time from 12 to 60 months. This allows you to set up a budget friendly payment plan and show you how interest can accumulate over time, This encourages cardholders to be more responsible with their credit habits and pay off their balances in a more timely fashion.
Neither card charges an annual fee or foreign transaction fees. Neither card offers an introductory offer of any type or allows balance transfers. Neither card offers a rewards program.
As for application acceptance, Jasper Mastercard&REG does not require a Social Security number to be provided and requires no credit history. The Upgrade Card requires a credit rating of Fair to Good.
The two cards could not be more different when it comes to interest rates. Jasper Mastercard&REG charges all cardholders a flat rate of 15.49% Variable. The Upgrade Card APR is 6.99% -29.99% Fixed, depending on credit worthiness. It cannot be stressed strongly enough that if you are approved for an Upgrade Card, you will want to be very sure of the interest rate you have been assigned before you start making purchases.