Greenlight Debit Card For Kids Review
Loads of features, safety guardrails and robust options make the Greenlight Debit Card for Kids a great option for parents looking for ways to teach their children the ins and outs of budgeting, saving and spending.
By
Brooklyn Lowery
CardRatings Senior Manager
|
Updated
Greenlight Debit Card For Kids
CardRatings Editor's Analysis: Pros & Cons
This card allows parents to set spending limits, encourage saving with specific goals and track their child's purchases all through an app.
Cardholders can label their savings with specific goals and watch as their money grows toward that goal.
No foreign transaction fees and mobile wallet-ready mean this card is highly usable in a wide variety of situations.
There is a monthly usage fee after your first month; it's reasonable, but certainly something to keep in mind.
Terms and Limitations Apply.
WHAT IS THE GREENLIGHT DEBIT CARD FOR KIDS?
If you're looking for a way to help your kids be responsible for their own money, and be able to make purchases themselves (with your approval), then the CardName is a great way to get started.
Who hasn't had to make an online order for a child who has their own money, but not their own credit or debit card to make that purchase? The CardName could be your solution.
Managed by parents, this card is designed to help children learn about earning, spending, saving and even giving.
Nancy Zimmer, whose three teenagers have had the CardName for about three years says it's any parent's goal to raise a child who can actually make it on their own. "Being able to save money and spend wisely is one of those important things a kid needs," she said.
Zimmer says what led she and her husband to research the CardName was her oldest son wanting to purchase video games on his Xbox and being upset he had to wait for his dad to come home to do it; oftentimes asking why he couldn't have his own credit card.
How does it all work?
The card includes a prepaid account service managed by a parent or guardian that allows the adult to control and monitor the cards, including setting spending parameters and approving purchases for the family accounts. Parents can add funds right from an app where they can see exactly who has what in each account at any given time. Besides the ability to add money instantly, parents can turn the card off through the app at any given time, receive alerts when it's used, set store-level spending controls, automate allowance payments and help manage chores, as well as reward them when complete.
"It's great," says Zimmer. "With this particular card, we get a message each and every time they purchase anything. We can set places where they cannot purchase things. There's also a feature on it where if they try and purchase something and they're a few cents shy you can say 'yeah, go ahead and get this' and let the purchase go through."
The card also allows kids to set certain savings goals and they can transfer what they want to save into those categories and see how close they are to each particular goal.
Tim Lavallee says he and his wife talk to their teen and tween about money all the time, something he says they've done since their children were little. "We explain how money is buying power, and how to use buying power to obtain things they want or need," he says. "Saving is a big part of understanding how to build buying power. Ideally, our kids learn that money is the result of their exertion or expertise, and they use that money to take care of basic needs and achieve their financial goals."
The CardName savings goal feature helps kids save for something in particular. They can save toward a specific purpose by giving it a name, setting a goal amount and watching it grow to see how close they are to their goal. Using the app, kids can move money into their personal savings goals at any time.
Zimmer's daughter is into cosplay and the CardName helps her attain those goals. She's set specific goals of how much she needs to be able to purchase a character's outfit so she can put part of her money over to that and leave the rest to spend.
The savings category is Heather Long's favorite thing about the Greenlight Debit Card. Her 14-year-old daughter has had the card for about four months. "My daughter can move money into that category and name it for a particular item," she says. "She can actually write in what she's saving for, unlike a regular bank account where she could have a savings account tied to her checking account, but that's just a 'pot' of money and she likes seeing what she's actually saving for.""
Another feature Long likes is that when she or her husband puts money into an "emergency fund" it doesn't allow the user to take it out without parental permission. "It helped facilitate the conversation for when you've deemed money 'emergency' that you don't just take it when you want to buy something and don't have enough," she says.
Top Features
Cash Back on Groceries
N/A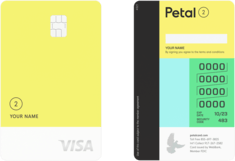 No fees whatsoever. No late fee, foreign transaction fee, annual fee, or any-other-kind-of-fee, fee.
Variable APRs range from 15.24% - 29.24%
Up to 1.5% cash back on eligible purchases after making 12 on-time monthly payments.
1% cash back on eligible purchases right away
2% - 10% cash back at select merchants
$300 - $10,000 credit limits
No credit score? No problem. If eligible, we'll create your Cash Score instead.
See if you're pre-approved within minutes without impacting your credit score.
Build credit alongside hundreds of thousands of Petal card members.
Petal reports to all 3 major credit bureaus.
No deposits required
Card issued by WebBank, Member FDIC
Credit Needed:
Excellent, Good, Limited History, No History, Limited, No Credit
There is no minimum or maximum age for CardName users. The company says it "supports kids and grownups of all ages."
The right age for this card will be different for every family and child; some will be ready to start exploring the nuanaces of saving and spending before others will. Take a look at our "Age by age guide to teaching kids about money" for suggestions about what to focus on at different ages.
Money can be loaded onto the CardName by connecting your bank account or debit card account to the Greenlight app and then making a transfer to your Greenlight Parent's Wallet.
Parents can transfer money right to their child's Greenlight card from their bank account to the app. They can also set chores in the app and base allowances on them.
Direct deposit is also available for teens with jobs. There is no cost for direct deposit and those funds are automatically deposited into the "Spend Anywhere" category.
Parents can also choose whether to allow their child to use their cards at an ATM and limit how much cash they can withdraw.
Greenlight also offers a referral bonus. If you refer someone you'll both get $10.
The CardName has a monthly fee for usage based on the number of cards in your family. For your first 30 days, the card is free. After that, the monthly fee is AnnualFees for up to five children. That fee covers all banking fees and costs, as well as all of Greenlights' features. The card doesn't charge foreign transaction fees, which is a definite plus and not necessarily common for debit cards.
The Greenlight Debit Card also offers tiered pricing for additional plan services. All the the monthly fees are designed for a family with up to five children.
The monthly fee for the Greenlight+Invest, which includes investment features designed just for kids is $7.98.
The monthly fee for Greenlight Max, a plan offered by Greenlight to teach children about money management and investing fundamentals with all the safeguards parents want including identity theft protection, cell phone protection and purchase protection, is $9.98 per month.
There are no hidden or extra fees unless you lose your Greenlight card. The company offers one free replacement card. After that replacement cards are $3.50 each.
When it comes to safety and security, the Greenlight app includes safety features that allow both parents and kids to turn the card off if it goes missing. The card also comes equipped with an EMV chip to provide an extra layer of protection. Parents can set their child's secure PIN and change it at any time within the app. Greenlight accounts are FDIC-insured.
When it comes to other downsides, it's in place for protection, but it could be problematic that you can't use the Greenlight Debit Card for cash back at the point-of-sale like you can with many debit cards.
The last big potential downside is that this isn't a credit card, so, while it can help kids learn the ins and outs of budgeting, spending and saving, it can't help them build a credit history. If that's your goal, you might consider adding your child as an authorized user on your credit card when the time is right.
If the fees don't bother you, the CardName is a good overall card for kids to give them the ability to make their own purchases, save for something special and learn about the value of earning. Because it's a debit card rather than a credit card, children can't spend what they don't have on the card keeping them from making purchases that they can't afford – an excellent lesson in budgeting.
Greenlight Debit Card For Kids Compared to Other Cash back Cards
Cash Back on Gas
Up to 1.5% cash back on eligible purchases after making 12 on-time monthly payments. 1% cash back on eligible purchases right away. 2% - 10% cash back at select merchants.
Cash Back on Gas
3% Cash Back at U.S. gas stations and on transit (including taxis/rideshare, parking, tolls, trains, buses and more).
Cash Back on Gas
1.5% cash back on all other purchases.
Cash Back on Gas
1% when you buy plus 1% as you pay
Cash Back on Groceries
N/A
Cash Back on Groceries
Up to 1.5% cash back on eligible purchases after making 12 on-time monthly payments. 1% cash back on eligible purchases right away. 2% - 10% cash back at select merchants.
Cash Back on Groceries
6% at U.S. supermarkets (on up to $6,000 per year in purchases, then 1%)
Cash Back on Groceries
1.5% cash back on all other purchases.
Cash Back on Groceries
1% when you buy plus 1% as you pay
Cash Back on other
Up to 1.5% cash back on eligible purchases after making 12 on-time monthly payments. 1% cash back on eligible purchases right away. 2% - 10% cash back at select merchants.
Cash Back on other
1% Cash Back on other purchases.
Cash Back on other
1.5% cash back on all other purchases.
Cash Back on other
1% when you buy plus 1% as you pay
Disclaimer: The information in this article is believed to be accurate as of the date it was written. Please keep in mind that credit card offers change frequently. Therefore, we cannot guarantee the accuracy of the information in this article. Reasonable efforts are made to maintain accurate information. See the online credit card application for full terms and conditions on offers and rewards. Please verify all terms and conditions of any credit card prior to applying.
This content is not provided by any company mentioned in this article. Any opinions, analyses, reviews or recommendations expressed here are those of the author's alone, and have not been reviewed, approved or otherwise endorsed by any such company. CardRatings.com does not review every company or every offer available on the market.