Cash-back credit cards 101
Last Updated, May 28, 2020
Our credit card articles, reviews and ratings maintain strict editorial integrity; however we may be compensated when you click on or are approved for offers (terms apply) from our partners. How we make money.
WHAT IS A CASH-BACK CREDIT CARD?
When we say, "Cash-back credit card" what comes to mind?
If you thought, "I can get cash back when I make a purchase at the grocery store" or, "It's a credit card that waives fees if I make a withdrawal from an ATM," then you should keep reading.
If you thought, "hard-to-keep up with categories that earn minimal rewards and won't actually benefit me in the long run," keep reading.
And if you thought, "Cash-back credit card? I have no idea what that means," definitely keep reading.
A cash-back credit card isn't the same as getting cash back at a grocery store, nor is it simply a card that waives the fees if you make a withdrawal from an ATM. It's a credit card that incentivizes cardholders to use their plastic frequently in exchange for rewards like statement credits, cash deposits and gift cards.
Cash-back rewards typically range from 1 percent to 6 percent depending on your particular credit card and, in some cases, where you're doing your shopping (more on that below). In general, there's very little you have to do beyond just using your credit card and then deciding when and how to redeem your rewards. Credit card transactions automatically accumulate rewards on your behalf in an account usually held with the issuer.
WHAT IS THE DIFFERENCE BETWEEN A CASH-BACK CARD AND A REWARDS CARD?
Cash-back credit cards allow cardholders to put money toward their credit card statement, redeem cash back for gift cards or cash equivalent prizes, or receive a physical check. Rewards programs, on the other hand, are compiled of special offers and bonus points which can be redeemed for things other than cash: airline miles, gas cards, gift cards, hotel stays and more.
When deciding if a cash-back or rewards card is best for you, it's important to take a deep dive into your lifestyle and spending patterns to see which type of card will benefit you the most. Cash-back cards can be viewed as a more practical reward – you see a physical return for the money you spend on your credit card. Cash back can usually be put right back toward your statement, or in some cases into other funds like your 401K, savings account or an IRA, so you don't have the opportunity to take your reward and splurge on an item or experience.
Rewards cards are geared toward really treating yourself – your reward isn't cash, it's more like a "present" that you must use.
Don't get us wrong, rewards cards can also be very practical depending on your lifestyle. If you travel for business frequently, looking into rewards cards that offer flight and/or hotel benefits may be more lucrative for you. Furthermore, some cards offer the option for either cash back or some kind of reward. Doing your research about the card that best fits you will always be the best method for choosing which plastic to put in your pocket.
DO I NEED A CASH-BACK CARD?
Do you like to leave money on the table? Hypothetical question, but in all seriousness, if you are responsible with your money and in a position where getting a credit card makes sense, why not pick a card that gives you cash back for using it?
77% of U.S. adults carry at least one credit card.
Source: Federal Reserve's Report on the Economic Well-Being of American Households in 2015
Seventy-seven percent of respondents carry at least one credit card, according to the Federal Reserve's 2015 Report on the Economic Well-Being of American Households. If you're among that 77 percent, why not make sure that credit card you're carrying is earning you cash back? Cash back is straight forward, and pays you back for purchases you'd be making on your credit card anyway. There are cash-back programs for a range of credit scores, from fair to excellent, making cash-back credit cards great for, literally, anyone with the financial responsibility to handle a credit card well.
TYPES OF CASH-BACK CREDIT CARDS
Cash-back credit cards typically fall into one of three types: flat-rate, tiered and rotating categories. They each have their pros and cons, but your ultimate choice should depend upon your spending habits and the level of planning you want to do with your credit card usage.
Flat-rate credit cards: These are the simplest cards to understand and are a great place to start for the person who is new to cash-back credit cards. With a flat-rate cash-back credit card, you earn a flat percentage back – often 1-2 percent – on all your purchases. You won't earn bonus cash back for shopping at particular stores or spending in particular categories, but you also don't have to keep up with tiers or categories so "maximizing your rewards" just means using your card regularly.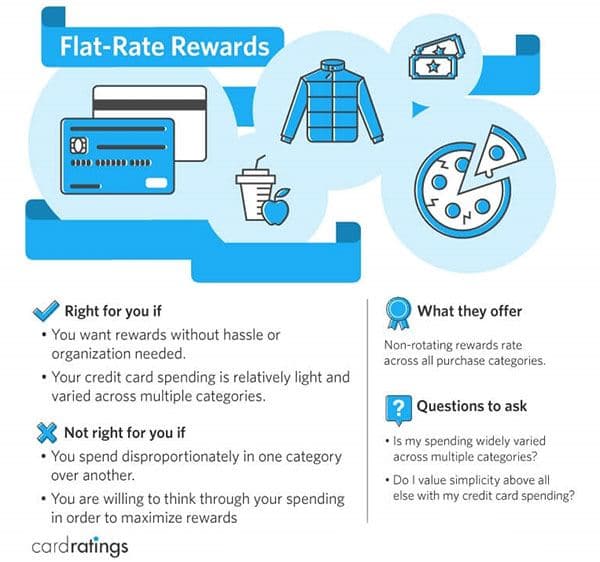 Tiered-rate credit cards: The next step in cash-back credit cards are tiered-reward cards that offer differing percentages of cash back depending on where you make your purchase. These levels of cash-back do not rotate, but do often come with spending caps. For instance, you may earn 3 percent back at grocery stores on up to $1,500 in spending each quarter as well as 2 percent back at gas stations and 1 percent back on all other purchases.
Unlike flat-rate cash-back cards, tiered-rate cards do require a bit of planning in order to maximize your rewards. If the tiers don't match up with your typical spending categories, you'll be leaving rewards on the table.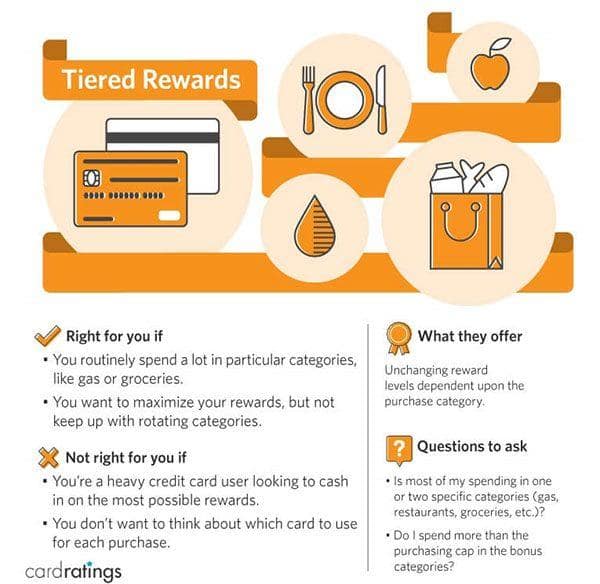 Rotating categories credit cards: These are the most complex of the cash-back credit cards, but also the ones with the highest rewards-earning potential (assuming, of course, that the categories mesh with your spending habits and you max out the spending caps).
In a nutshell, a rotating-categories card offers bonus cash back, usually in the 5 percent range, for particular credit card transactions during a given period of time. Often, cardholders must "sign up" for the bonus categories each period (often quarterly) and there's usually a spending cap, meaning cardholders will earn the bonus cash back up to a particular spending threshold ($1,500 is a pretty typical spending cap) and then rewards will revert to the non-bonus level (usually 1 percent).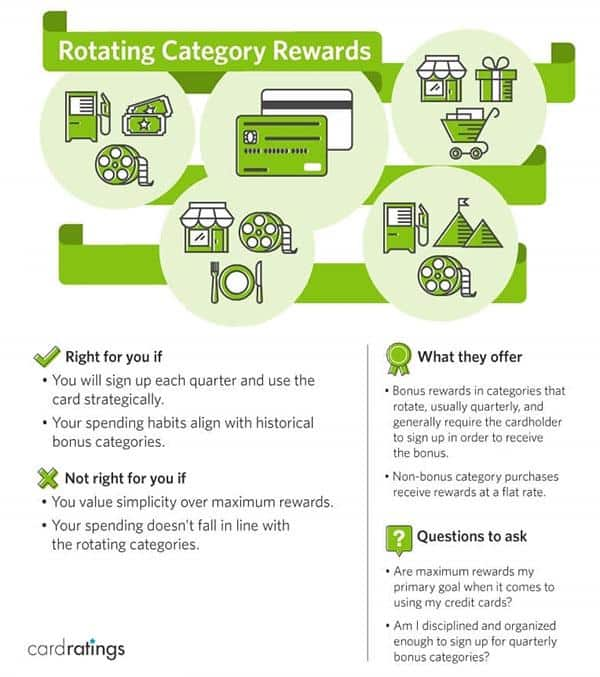 Practically, the type of card that is right for you will depend on your spending habits and your tolerance for organizing your credit card spending. Just to give you an idea of how each of these types of cards COULD stack up for you, take a look at the hypothetical scenario below for Frank, Rebecca and Thomas.
Rewards on $500
at Grocery Stores
Rewards on $100
at Restaurants
Rewards on $200
at Gas Stations
Rewards on $200
in Other Purchases
Total

Frank

- flat-rate card; 1.5% on all purchases
$7.50
$1.50
$3
$3
$15

Rebecca

- rotating-categories card; 5% at restaurants this period, 1% on everything else
$5
$5
$2
$2
$14

Thomas

- tiered rewards card; 3% back on groceries, 2% on gas and 1% on other purchases
$15
$1
$4
$2
$22
As you can see in the example above, Thomas with his tiered-rewards credit card came out on top for this particular time period; however, let's say Rebecca wanted to maximize her 5 percent restaurant rewards for the period and spent $500 at restaurants and just $100 at grocery stores. In that case, Rebecca would have come out ahead, earning a total of $30 in rewards for the month. ($1 on groceries, $25 on restaurant spending, $2 at gas stations and $2 on other purchases).
What this should show you is the importance of honestly assessing your spending habits before making a decision about a cash-back credit card. At the end of the day, credit card rewards are only as good as your willingness and ability to maximize them.
Check out some our picks for best cash-back credit cards
HOW DO I CHOOSE A CREDIT CARD
Choosing the best type of cash-back credit card will be a decision based on how much you put on your credit cards each month and where you typically spend your money.
Really look through the above breakdowns of the pros and cons of each type of cash-back card as well as the type of credit card user who should possibly consider each type.
Once you've decided what type of cash-back credit card is best for you, you'll want to take a look at a few other things that should, in fact, be part of the decision to apply for any credit card – cash-back or otherwise.
Read the fine print
Apart from judging your spending categories and which card will earn you the most points or cash back, it's also important to pay attention to the fine print. If you earn a higher rewards rate with one card but the APR is sky high, will you end up earning more in the long run, or paying more in the long run?
The fine print will also lay out things like whether you'll pay foreign transaction fees when using the card abroad and if you'll enjoy certain privileges like rental car insurance, concierge service, price protection and so much more.
It's tedious to read, but the fine print contains critical information that will both help you get the most out of your credit card and keep you from paying fees you don't need to pay.
Compare the annual fee to your earning potential
Some credit cards require a cardholder to pay an annual fee, but don't let that be an instant turn-off if you otherwise like what the card has to offer. Many cards waive the annual fee during the first year and, within that first year you should be able to assess whether you'll earn enough cash back or points to offset the fee once it kicks in.
As an example, Blue Cash Preferred® Card from American Express charges a $95 annual fee, but the cash-back earning opportunities are incredibly high (American Express is a CardRatings advertiser. Terms apply; See Rates and Fees). Cardholders can earn 6 percent cash back at U.S. supermarkets (on up to $6,000 spent annually, then 1 percent) and on select U.S. streaming subscriptions and 3 percent cash back at U.S. gas stations and on transit like bus fare, parking, tolls and more; all other purchases are worth 1 percent cash back. Terms apply. So if you spend $1,000 a month at the supermarket and pay your balance off each month you'll earn $60 back for six months out of each year, or $360. That more than covers the annual and we haven't even discussed what you can earn in the other cash-back categories.
If you are going to spend that money anyway, why not earn some money back when you do it?
Know your credit tier
It can seriously damage your credit to apply for multiple credit cards at once and receive rejections. Credit scoring companies such as FICO may assume you are in an emergency situation and are about to binge on credit. Apply only for cards for which you are reasonably certain you will be approved. For each card reviewed on CardRatings, we strive to provide details about the credit tier most likely to be approved for the card. If you know your credit score is only in the average range, you're unlikely to be approved for a card designed for people with good to excellent credit. That said, situations do vary from person to person.
Unsure of your credit score? You are entitled by federal law to a copy of your credit report from each of the three major credit reporting bureaus once every 12 months. You can request the reports online.
APPLYING FOR A CASH-BACK CREDIT CARD
After assessing which card fits within your spending wheelhouse and financial profile, applying is an easy process.
Most credit cards these days offer online applications that take only a few minutes to complete. You will need to enter some personal information, so make sure that when you do apply you're online with a secure connection in a private area.
Be prepared to enter information including the following:
Usually after you've entered in all of the requested info, the inquiry will automatically be submitted to the lender. Sometimes you'll see approval immediately and other times you'll receive mail and/or a phone call to verify your approval or denial of credit card issuing. The process usually happens within a week at the most (unless you're applying for a secured credit card or credit cards for bad credit in which cases the process can take up to four weeks).
ARE CASH-BACK CREDIT CARD REWARDS TAXABLE?
In a word, no. The Internal Revenue Service tends to view credit card rewards, whether cash back or frequent flyer miles or some other form of points, as a discount rather than income so you generally won't need to report your cash-back rewards on your tax return.
Consider this: The cash-back you earn with your credit card is really just a refund based on purchases you're making. In other words, you aren't getting something for nothing.
There are slightly different things to consider if you redeem points for a tax-deductible purchase for your business. You can only deduct the amount that you actually pay, so you'll need to subtract whatever amount was covered by credit card rewards.
Obviously, taxes are complicated and every person's situation differs, so if you have any doubt about how to treat your credit card rewards, whether business or personal, consult a tax professional.
Are your credit card rewards taxable?
WHEN NOT TO USE A CASH-BACK CREDIT CARD
For purchases unrelated to rewards
If you have a tiered or rotating categories cash-back card and receive bonus cash back for grocery store purchases and gas station purchases but only one times the rewards for general purchases, try to use your card primarily for grocery store and gas station purchases.
Flat-rate cards make cash-back categories simple: You earn the same amount of cash back regardless of the purchase you make. If you don't know which category you spend in the most, it may be a good idea to pick a general category flat-rate card that doesn't specify more points for certain categories.
If you realize the purchase you are about to make doesn't earn you any reward points, it may make more sense to pay with cash. If you start to notice a pattern, and the credit cards in your wallet aren't earning you enough cash back, it likely time to reevaluate the plastic you're holding.
To get actual cash back
Except in extreme emergencies, do not use credit cards, cash-back or otherwise, for actually getting cash back from an ATM. Credit cards generally charge fees for cash advances – often in the 3-5 percent range – plus there are sometimes fees for using the ATM.
Additionally, the APR on cash advances is often higher than on regular purchases, and that interest usually starts accruing immediately rather than after a grace period.
Once the fees and interest start piling up, you'll regret the decision to use your card for a cash advance.
Be aware of other fees
All credit card issuers will let you know whether they assess usage fees like:
Foreign transaction fees

Balance transfer fees

Late fees
If you can avoid using your card in situations in which you know you'll be assessed an additional fee, you're on the right track!
BEST PRACTICES FOR USING YOUR CASH-BACK CREDIT CARD
Avoid adding new debt
Pay your credit card balance in full each month. If you let interest accumulate you'll be negatively offsetting the cash rewards you're earning with your cash-back card. Even with a card that has low or even zero interest intro offers, get in the habit of paying your bill in a timely manner each month. The beauty of credit cards is that, when used correctly, they can be a major tool for consumers. Incorrect use of credit cards can result in a long road of rebuilding your financial well-being.
Don't overspend
Don't buy just for cash-back rewards. Let's say your cash back is valid at restaurants but you don't have a huge entertainment budget, eating out to earn rewards won't get you into a better financial situation than staying home and cooking meals.
Perhaps you should look into changing your cash-back program to one that racks up points at the grocery store or gas station where you'll (hopefully) be less likely to overspend.
Monitor your points
Points and cash-back offerings are sometimes capped, particularly for tiered or rotating categories cards, and sometimes your points or rewards do expire. It's important to pay close attention to the fine print of your credit card. If each year your points max out after $6,000 in spending, continuing to use your credit card won't be as beneficial to you as it was when you were earning two, three or even six times the amount of points – perhaps you have another option in your wallet that will mean more benefits.
Also, what's the point in using a cash-back card for the cash back then letting those accumulated rewards expire? Make sure that you are actually claiming the points that you are earning – double check when and if points expire as well as any other restrictions that may prevent you from taking full advantage of your credit card cash back.
Along those same lines, if you decide to carry a tiered or rotating categories cash-back card, make sure that you are using that card for the purchases that will earn you the bonus rewards. Often you'll need to sign up quarterly in order to take advantage of rotating categories; set reminders on your calendar or take advantage of the reminder services offered by the credit card issuer so that you don't miss out on those bonus rewards.
Share your card wisely
We certainly don't advocate just handing your credit card to anyone, but you should consider whether adding a trusted authorized user could help you maximize your reward opportunities since that person's charges on the card will also accumulate toward your cash-back rewards.
Most credit cards don't charge an additional fee for adding an authorized user – a few even reward you with an introductory bonus if you add someone new to your account. That means that you could have two people racking up rewards, but you'll only be paying one annual fee (if there's an annual fee to pay at all).
With you and your authorized user spending toward rewards, you could find yourself on the way to a dream vacation or free gift card sooner than you think.
---
For rates and fees of American Express cards mentioned in this article, please see the following links:

Blue Cash Preferred® Card from American Express

(See Rates and Fees)
Disclaimer: The information in this article is believed to be accurate as of the date it was written. Please keep in mind that credit card offers change frequently. Therefore, we cannot guarantee the accuracy of the information in this article. Reasonable efforts are made to maintain accurate information. See the online credit card application for full terms and conditions on offers and rewards. Please verify all terms and conditions of any credit card prior to applying.
This content is not provided by any company mentioned in this article. Any opinions, analyses, reviews or recommendations expressed here are those of the author's alone, and have not been reviewed, approved or otherwise endorsed by any such company. CardRatings.com does not review every company or every offer available on the market.