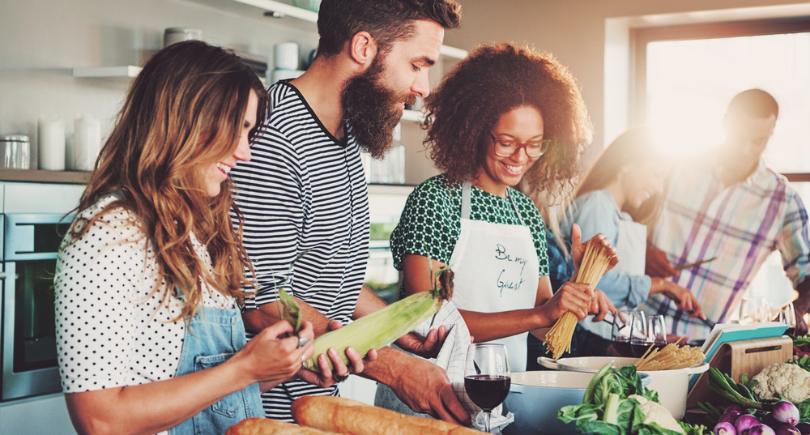 Foodies often drop some serious cash on the highest-quality specialty ingredients and meals at the finest restaurants in town, but did you know that epicureans can actually boost food budgets with smart credit card usage? And, they can not only save on food they were going to buy anyway, they can also earn bonus rewards and cash back as well.
It isn't as simple as applying for a rewards card and using it mindlessly, though. In reality, there are several specific strategies that work best for foodies who won't settle for less than the maximum results. Want to hear more? Here are six simple-to-follow tips for food lovers who are desperate to bump up their budget for consumables.
Earn cash back on groceries and kitchenware
Earning cash-back on groceries with a rewards card is simple, with some cards offering higher cash-back rates specifically for grocery store purchases. For example, those cardholders with the no-annual-fee CardName earn 3% cash back at U.S. supermarkets, U.S. gas stations and on U.S. online retail purchases (up to $6,000 spent in each category per year, then 1%), and 1% back on other eligible purchases. (See Rates and Fees). No quarterly enrollment is required, and you can earn the same great reward categories year round, whether stocking your pantry or treating yourself to some sleek new cookware via an online shopping spree. American Express is a CardRatings advertiser.
For those willing to spend a bit on an annual fee, the CardName offers an even better value, with 6% cash back earned at U.S. supermarkets (up to $6,000 a year, then 1%); however, those who like to shop online for kitchen goods will want to keep in mind that this card does not earn bonus rewards on U.S. online retail purchases. (See Rates and Fees).
Make sure you're earning rewards when dining out, plus on delivery
Perhaps for you being a foodie means expressing your culinary creativity at home, whipping up a delicious meal— or, maybe, you can barely fry an egg… If dining out is something you do often, carrying a credit card that rewards these purchases can put extra money in your pocket to enjoy more of what you love; whether that be eating some more, or perhaps using miles towards a trip to France so that you can, well, eat some more– pain au chocolat, anyone? You get the idea. When it comes to choosing a credit card, applying for something that complements your lifestyle only makes sense. The CardName, for example, generously rewards foodies with unlimited 4% cash back on dining and entertainment purchases, plus 2% back on grocery purchases, so it's still a good card if you like to cook at home sometimes too. Its AnnualFees annual fee is reasonable considering the value the card offers, but if you want something without an annual fee, its sister, the CardName, has no annual fee, and offers 3% cash back on dining, entertainment, popular streaming services and at grocery stores (excluding superstores like Walmart and Target), and 1% on other purchases.
The Savor cards are excellent for those truly focused on making the most of out dining experiences, but if you are looking for something a bit more flexible, don't fret. There are still some great cards out there offering rewards on a wider range of categories, plus on food purchases as well. Take the CardName for example. This card offers 5% cash back on travel purchased through Chase Ultimate Rewards®, 3% cash back on dining out (takeout and delivery included), 3% cash back at drugstores, and 1.5% cash back on all other purchases.
If you travel often, the CardNamediscontinued and the CardName are two other great options to consider. With the Sapphire Preferred® you'll earn 2X points on travel (and 5X total points on all travel purchased through the Chase Ultimate Rewards portal) and 3X points on dining at restaurants worldwide, and 3X points on travel (after earning $300 travel credit) and dining with the Sapphire Reserve®. What's really great about these cards is that points are worth more when booking for travel through Chase Ultimate Rewards®— 25% more for Preferred® and 50% more for Reserve®. Reserve® cardholders can also look forward to 10X points on Chase Dining booked through the Ultimate Rewards portal.
If you just want a card that rewards you for every purchase you make, without having to think about any categories or spending caps, you might want to consider the CardName. This card offers unlimited 2X miles on all purchases worldwide, so whether you're buying plane tickets to France or shopping the Rue des Martyrs for the perfect Parisian picnic, you'll earn miles on it all. Miles can then be redeemed to "erase" those travel purchases.
Take advantage of quarterly bonus categories
Certain cards, like the CardName, allow cardholders to earn cash back in bonus categories that rotate each quarter. This card is similar to the Freedom Unlimited® in that it earns 5% cash back on travel purchased through Chase Ultimate Rewards®, 3% cash back on dining out, and 3% back at drugstores, but instead of earning 1.5% on all "other" purchases it only earns 1%. What really sets this card apart though is that it offers the opportunity to earn 5% cash back on up to $1,500 in combined purchases in bonus categories each quarter you activate. For example, Walmart, a great place to stock up on groceries and more, has been known to be one of the featured categories during at least one quarter a year. (Information related to Chase Freedom FlexSM has been collected independently by CardRatings and was neither reviewed nor provided by the card issuer)
Rotating bonus categories are a great way to take full advantage of your card and to make sure you're pocketing the maximum amount of rewards available to you, so don't take these deals lightly. Set reminders so you don't miss out on these opportunities, or mark it on a calendar. Sometimes maximizing credit card rewards takes a bit of extra work, but it's almost always worth it.
Watch out for foreign transaction fees
If you find yourself traveling abroad often, or even if you just regularly make purchases in a foreign currency, you'll want to make sure you're using a card that doesn't charge foreign transaction fees. On your dream foodie trip to Paris for instance, all those daily croissants and nightly Michelin-starred meals can really add up. Say you spend a week in France spending $2,000 while you're there. If you're using a card that charges a 3% foreign transaction fee (the average you'll see with most cards), you're looking at an extra $60 in fees. Imagine how many baguettes you can buy with that, or even a nice bottle of French wine!
Even if you don't travel abroad often, but you buy from abroad often, you'll want to be careful about these fees. Maybe your favorite spice comes directly from India or you insist on ordering Oaxacan chocolate straight from the source in Mexico. If you're charged in a foreign currency, without a no-foreign-transaction-fee credit card, you'll pay extra. Instead, if you use a card such as Capital One Venture, not only are foreign transaction fees something you won't have to worry about, but you'll earn two miles on every dollar you spend.
Get creative with gift cards
If you have a card such as the Blue Cash Preferred®, which earns 6% cash back at U.S. supermarkets (up to $6,000 annually), it doesn't matter what you buy at that supermarket; you'll earn 6% cash back regardless. So, why not consider buying some gift cards? You can of course purchase gift cards for that supermarket for gifts or future use, but you can also purchase gift cards for restaurants, home good stores, and more, and still earn that 6% cash-back rate. That means you can technically, in a sense, earn 6% cash back for dining at your favorite restaurant, even if you don't have a credit card that rewards restaurant purchases. This is also a good strategy for rotating-category credit cards. Say you have the Chase Freedom Flex℠ card, and the featured category is Walmart purchases, but you don't quite have $1,500 of Walmart purchases to make that quarter. This is where gift cards can come in handy. You can either purchase some Walmart gift cards to use later, and/or purchase gift cards to your favorite restaurants and stores, all while earning 5% cash back.
This can be a good strategy to make the most of the reward-earning potential your cards offer, but it's also important to remember to not get carried away. As always, never charge more to your card than you can realistically pay off, just to earn rewards. Credit card rewards will almost never be worth the interest you have to pay if you can't pay your credit card statement in full. Furthermore, we recommend that you only purchase gift cards if you know you'll use them. There's nothing worse than purchasing a gift card only to lose it or to forget you have it until it's no longer any good. If there's a gift card available for your favorite restaurant that you order takeout from every Friday night, great. Stock up and make that your go-to payment method each week. If the gift cards available don't align with your spending habits, then this probably isn't the most practical strategy for you.
Join a dining rewards program
There are certain programs that can take your savings up a notch. Seeking out and joining a dining rewards program and combining your rewards-earning credit card with one of these programs can be a great way to boost your profit and make room to splurge. These programs allow you to earn extra miles or points in addition to what you already earn with your credit card, when dining at participating restaurants. Just sign up for the program of your choice, link your cards, dine at a participating restaurant, and then after you pay, points/miles will be deposited into your account.
Take the AAdvantage Dining℠ program for example. To start, new members of this free program can earn 1,000 bonus miles just for spending $25 within 30 days of joining. Then, on an ongoing basis, earn 1-5 AAdvantage miles per dollar spent at eligible restaurants. And say you have an AAdvantage card, such as the CardName, you'll earn two miles per dollar on top of the miles earned through the AAdvantage Dining℠ program. That means you can earn up to seven miles per dollar spent on eligible restaurant spend! Citi is a CardRatings advertiser.
As you can see, there are more than a few ways you can save on food and dining if you're willing to do the research. On the other hand, it's important to have fun with it, too. If one strategy isn't producing the results you want, simply move on to the next until you find the perfect way to save on your obsession with all things tasty. It might take a while, but you'll eventually fall into a pattern that requires minimal effort, yet produces plenty of results.
And remember, the culinary world may be scrumptious, but there's nothing more satisfying than saving money on your favorite fares.
To see the rates and fees for the American Express cards mentioned in this article, please visit the following links: See Rates and Fees (CardName); CardName (See Rates and Fees)