SPONSORED POST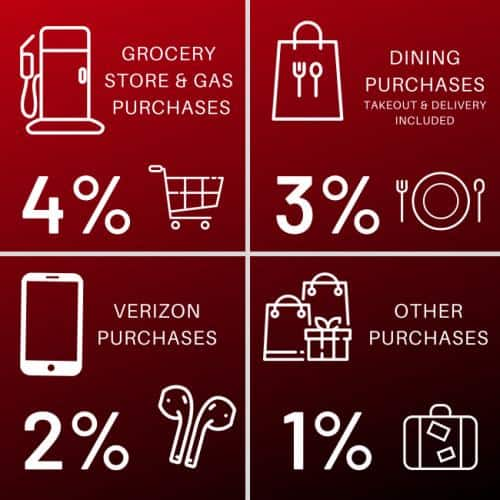 Ninety-six percent. That's the percentage of Americans with cellular phones according to a 2019 report from the Pew Research Center. Furthermore, 81% of those people are walking around with smartphones in their pockets, and those mini mobile computers can certainly put a dent in a wallet.
Wouldn't it be nice if everyday purchases like groceries or grabbing takeout could help offset the cost of a new mobile phone or even that of a monthly wireless bill?
It's time to get to know the Verizon Visa® Card
Introduced last summer, the Verizon Visa® Card charges no annual fee or foreign transaction fees* and offers plenty in the way of rewards for everyday spending like gas, groceries and, of course, Verizon purchases (including wireless bills and Verizon store purchases).
Those rewards, called Verizon Dollars, could go a long way toward paying for the latest phone upgrade, new earbuds or even just offsetting a monthly cellular bill.
New Cardholder Offers
Everyone likes a nice bonus offer, and the Verizon Visa® Card doesn't disappoint with both a new cardholder welcome bonus as well as an ongoing discount opportunity.
New Verizon Visa® Card members can earn up to $100 in promotional credit when they use their new card to pay their Verizon wireless bill each month (learn more at Verizon.com/verizonvisacard). Then, on an ongoing basis, cardholders who set up their Verizon Visa® Card in Verizon's Auto Pay program can receive up to $10 per month off each eligible account or line, up to 12 eligible lines max on select plans, which could add up to substantial savings each month. Note that this offer is available to first time enrollees in Verizon Auto Pay.
Earning and Managing Verizon Dollars
Now let's talk about those rewards mentioned above.
Verizon Visa® Card members earn rewards in the form of Verizon Dollars, a currency redeemable for purchases in the Verizon store or for paying some Verizon bills as well as for travel or gift cards from favorite brands. And, given that there are no spending caps on the rewards categories, cardholders could find themselves with a good-sized bank of Verizon Dollars in no time.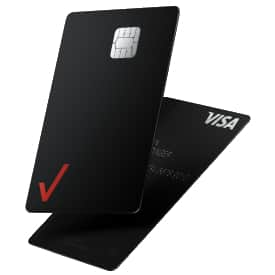 Cardholders earn 4% back on grocery store and gas purchases, 3% back on dining purchases (including takeout and delivery), 2% back on Verizon purchases and 1% back on all other purchases where Visa cards are accepted.
There are no limits to how many Verizon Dollars cardholders can earn and those rewards don't expire, so it's no problem to save up rewards until the next release of the newest smartphone. Plus, every credit card account associated with the same Verizon Wireless account will accrue earned Verizon Dollars into a shared digital wallet.
Earned Verizon Dollars are stored in a digital wallet that cardholders access through My Verizon online and the Verizon mobile app. Accrued Verizon Dollars post in monthly credit card billing statements within one- to two- credit card billing cycles.
Verizon Visa® Card members can stay on top of managing their rewards by installing both the My Verizon app and the Verizon Visa® Card app on their devices.
Earn Additional Rewards Through the Verizon Up Program
Cardholders who want to take their rewards earning to the next level will appreciate the Verizon Up program.
New cardholders are automatically enrolled in the company's Verizon Up program (if they're not already enrolled prior to becoming a cardholder). With the Verizon Up program, members are rewarded monthly, weekly, even daily with extras and perks. The Verizon Up program offers members monthly rewards, bonus rewards and local offers on everything from movie and concert tickets to extra Verizon Dollars for use toward their next upgrade or new gear.
How to Redeem Verizon Dollars
Verizon Dollars can be redeemed for the best things at Verizon from new devices to accessories and everything in between, and there are multiple options for redeeming them, such as at a Verizon operated store, through Verizon online or over the phone with a Verizon representative.
Redeem them on a new phone, headphones or pretty much anything in the Verizon store. Rewards can even be put toward your Verizon Wireless or, if you're paying online, a Verizon Fios home internet bill.
Verizon Dollars can also be used to make a down payment for a new phone or to pay off a device payment agreement.
If you want to look beyond the Verizon store, that's ok. Verizon Dollars can also be redeemed for travel and gift cards with a variety of brands.
Verizon Dollars have no cash value and are issued for reward purposes only.
Other Benefits and Ways to Save With the
Verizon Visa® Card
In addition to the cardholder bonuses mentioned above, there are a number of other benefits and perks tucked into the fine print of the Verizon Visa® Card
Cardholders can get $10 off their monthly Fios bill by enrolling their card as their auto pay method and signing up for paper-free billing.
Additionally, cardholders also get two free TravelPass days per calendar year (a $20 value). TravelPass allows Verizon customers to use their domestic talk, text and data in more than 185 countries outside the U.S. for a set daily fee. They can call within the country they're visiting as well as call back to the U.S.
Who can apply for the
Verizon Visa® Card

?

Exclusively offered to Verizon Wireless customers, only Verizon Wireless account owners and managers on accounts with 12 lines or less are eligible to apply for the Verizon Visa® Card.
What Verizon says about this card
Designed exclusively for Verizon customers, the card combines industry-leading rewards and benefits all with no annual fee.
Use the Verizon Visa Card everywhere it's accepted to earn Verizon Dollars - rewards you can redeem for the best things at Verizon.
No limits on how much you can earn, no expiration dates.
See More