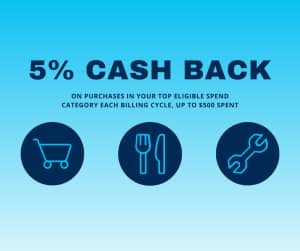 From grocery shopping to trips to home improvement stores, there are routine costs we all have to budget for. Wouldn't it be nice to earn cash back on those purchases? With the CardName, you can.
The Citi Custom Cash® Card offers 5% cash back on purchases in your top eligible spend category each billing cycle up to the first $500 spent (then 1% thereafter). You'll earn unlimited 1% on all other purchases. All this and there's no annual fee (See Rates and Fees).
What sets this card apart is that there are no rotating bonus categories or categories to sign up for. As your spending changes each billing cycle, your earning adjusts automatically when you spend in any of the eligible categories. That means less work for you. Instead of having to keep up with rotating categories or remembering to enroll when a category changes, just spend like you normally would and automatically earn rewards on those purchases.
Which categories are eligible to earn 5% cash back (up to $500 spent) based on where you spent the most that billing cycle?
One of the nice things about this card is that the potential bonus cash back is offered in popular everyday categories, so there's a lot of rewards-earning potential. The eligible 5% categories include:
Restaurants
Gas stations
Grocery stores
Select travel
Select transit
Select streaming services
Drugstores
Home improvement stores
Fitness clubs
Live entertainment
New cardholder offers
New CardName cardholders can earn $200 cash back after spending $1,500 on purchases in the first six months of account opening. This offer will be fulfilled as 20,000 ThankYou® Points, which can be redeemed for $200 cash back.
This is a nice offer for a card with no annual fee (see pricing and information). Furthermore, the $1,500 spend threshold required to earn that $200 cash back is a good deal considering that you would only need to make $250 in purchases each month for the first six months in order to reach this amount. A month's worth of groceries alone could easily set someone back hundreds of dollars, so when you think of it that way, it should be pretty easy for the average cardholder to reach this threshold.
Additionally, this card offers 0% intro APR on balance transfers and purchases for 15 months (then, RegAPR). If you have an existing balance you're working to pay off, this could be a way to save on interest. It's also a solid perk if you have a large purchase on the horizon and need some extra time to pay it off before interest charges kick in.
Citi® ThankYou Rewards program
The new cardholder welcome bonus is earned in the form of Citi ThankYou® Points, offering you flexibility to redeem your rewards for something other than cash back. Through the Citi® ThankYou Rewards program, you can redeem your rewards for cash back, gift cards, travel, put them towards shopping with eligible Citi® partners like Amazon and PayPal, and more.
Not only does the Citi® ThankYou rewards program offer redemption flexibility, but it also allows you to combine rewards earned with various Citi cards into a single ThankYou® Points account, so your overall bank of rewards grows more quickly.
Is the Citi Custom Cash® Card a good fit for you?
If you want to earn rewards on everyday purchases without having to keep track of rotating categories or category activation, the CardName could be a great fit for you. There's no annual fee, and you can earn more cash back in the eligible category where you spend the most each billing cycle. Plus, it has a generous introductory offer for new cardholders, which is a great way to kick off card membership.
Overall, this is a great offer for anyone seeking a simple-to-use credit card, and an easy way to earn cash back rewards. Approval for the card is based on credit worthiness (see pricing and information).