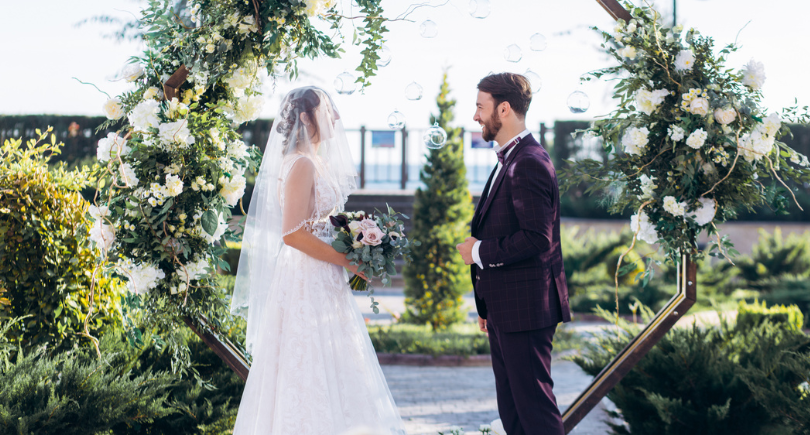 Wedding expenses can add up quickly. From booking venues to hiring photographers, planning a honeymoon and everything in between; it's a big day, and most couples have big plans. While you may not have cash on hand for all of these expenses, before you turn to use your credit card to offset some of them, you need to first weigh the pros and cons of this approach.
The benefits of using a credit card to pay for wedding expenses include taking advantage of credit card rewards, travel insurance protection and peace of mind. While this can be a smart move for some couples, financial planners say you should only take this approach if you are in a position where using a credit card won't impact you negatively down the line. You want to be sure your short-term spending doesn't have long-term implications.
"Looking at it from a financial advisor point of view, not all debt is created equal," says Chris Wakeman, managing partner at Lignum Wealth Management. "Typically we try and shy clients away from using consumer debt (credit cards) to make purchases that cannot be paid off within that billing cycle."
There are some exceptions to that rule though, according to Wakeman, and that includes using a credit card to earn rewards and protections, but again, only if you plan to pay off that balance at the end of your monthly billing cycle – or before your interest rate goes up if you open a 0% APR introductory rate card.
Wakeman suggests couples try to do a financial assessment when entering a partnership, looking at the future at both long-term and short-term planning goals before making any decisions.
"It's important (couples) look at comprehensive financial planning before putting themselves into any type of debt for one evening," he says.
Taking advantage of credit card rewards
The best credit cards earn rewards on purchases, and these rewards could go a long way in offsetting wedding costs. Whether you're paying for everyday expenses ahead of the wedding, or if you're using a credit card to handle purchases for the big day, each time you swipe your card you could be earning rewards that could later be used to offset wedding costs. The CardName, for example, earns 1.5% cash back on all purchases (plus 5% on travel purchased through Chase Ultimate Rewards® and 3% on dining at restaurants and on drugstore purchases) so you can take comfort in the fact that each time you make a purchase for your wedding, you're earning cash back.
There are also welcome bonuses to think about. Many credit cards offer welcome bonuses to new cardholders who meet certain spend thresholds within a set period of time from opening an account. Chances are, due to added expenses because of the wedding, meeting that threshold likely won't be difficult for many cardholders, meaning a very lucrative bonus could be easily obtained.
Sometimes these rewards are huge, such as with the CardNamediscontinued. Currently, this card is offering a one-time bonus of 75,000 miles once you spend $4,000 on purchases within three months from account opening. If you plan ahead and open this card before your wedding, reaching $4,000 in spend shouldn't be too tough. Those 75,000 miles are worth $750 in travel which could help make some couples' honeymoon dreams a reality. On an ongoing basis this card earns two miles per every dollar spent, so you'll continue to rack up miles each time you swipe your card.
Another great option to consider is the CardName. New cardholders can earn 60,000 points once spending $4,000 in the first three months of opening an account, which is worth $750 when redeemed for travel through Chase Ultimate Rewards. Cardholders also earn 5X total points on all travel purchased through the Chase Ultimate Rewards portal; 3X points on dining, including eligible delivery services and takeout; 3X points on online grocery purchases (excluding Target, Walmart and wholesale clubs); 3X points on select streaming services; 2X points on travel purchases; and 1X point on all other purchases.
If you are planning to get married at a specific hotel or are staying at one on your honeymoon, a hotel credit card could also be a smart way to offset some of your expenses.
For example, if you are a CardName cardholder, you could earn some major bonus points and rewards just for handling wedding expenses with your card. For a limited time, new cardholders can earn 100,000 points after spending $3,000 on purchases in your first three months from account opening. Additionally, this card offers up to 17 points for every dollar spent at participating Marriott Bonvoy properties; 3X total points on up to $6,000 in combined purchases at gas stations, restaurants and grocery stores each year; and two points for every dollar spent on everything else. So say you book a wedding venue at an eligible property that costs $5,000 – you stand to earn as many as 85,000 points on that purchase alone as well as qualify for the welcome bonus if you're a new cardholder. That's some great perks just for booking your wedding at a participating Marriott Bonvoy property! Even if you're not getting married at a Bonvoy property, there's a good chance you might stay in one on your honeymoon, considering that there are over 30 hotel brands all across the world that fall under the Bonvoy umbrella (The Ritz-Cartlon, St. Regis, JW Marriott, Sheraton, Westin, Four Points, and Aloft Hotels, just to name a few). There's a lot of point-earning potential with this card when it comes to your wedding – and beyond, thanks to two points earned on all "other" purchases. (Information related to the Marriott Bonvoy Boundless® Credit Card has been collected independently by CardRatings and was neither reviewed nor provided by the card issuer)
Cardholders can also earn a free night award every year after the account's anniversary (up to 35,000 point value), which could be a great perk to put towards the wedding night, if you have the card far enough in advance, or perhaps towards an anniversary trip later down the line.
The best credit card for wedding expenses will vary depending on your unique needs, and it's important to remember that these rewards are only worth it if you're able to pay your statement in full each month. Credit card interest can easily outweigh any rewards you may earn if you aren't paying your bills on time.
Introductory 0% APR periods, plus additional rewards
Another good option if you plan to use your credit card to help with wedding expenses is to use a credit card offering a 0% introductory APR period. This will allow extra time to pay off those expenses without being hit with high interest rates right away. Whether it's six months or a year, you'll buy yourself more time to pay down your debt interest free.
Some great credit cards offering an introductory 0% APR period include:
CardName
Not only does the CardName discontinued offer an introductory 0% APR period of 15 months on purchases and balance transfers (then, RegAPR; See Rates and Fees), cardholders can also earn 3% cash back at on U.S. online retail purchases (up to $6,000 spent annually, then 1%) — a nice incentive for those shopping for décor or appliances, or even wedding attire. New cardholders can also earn a $200 statement credit once spending $2,000 in purchases on the card within the first six months. On an ongoing basis, earn 3% cash back at U.S. supermarkets and U.S. gas stations (on up to $6,000 spent in each category annually, after that, 1%) and 1% cash back on other purchases. American Express is a CardRatings advertiser.
CardName
Though you won't earn any ongoing rewards, for a long introductory period on balance transfers, the CardName is a great option. This card offers a 0% introductory APR for 21 months on new balance transfers (must be made within four months of account opening) — among the longest APRs we know of. Once the introductory period expires, regular RegAPR APR will apply.Citi is a CardRatings advertiser. BalanceTransferFees
Recovering deposits if wedding plans are postponed or canceled
For many brides and grooms, the past year has been a challenge; from making wedding plans to canceling plans and scheduling them once again. While most wedding deposits are non-refundable and cancellation fees apply through many venues based on the date of cancellation (be sure to check your contracts), putting other services and deposits on your credit card could offer you some protection.
Credit card travel protection
When planning a big vacation — like a honeymoon — travel insurance is a must, but if you don't buy that extra protection or don't want to pay for it, paying for your trip with a credit card may cover you. Credit card travel insurance can protect you from unexpected expenses including trip cancellation and severe weather interruptions.
Travel insurance coverage varies between cards and issuers but often includes trip delay insurance, trip cancellation/interruption insurance, car rental insurance, delayed baggage insurance, lost luggage reimbursement and roadside assistance.
The Chase Sapphire Preferred® card mention above, for example, offers trip cancellation/interruption insurance up to $10,000 per person and $20,000 per trip for your pre-paid, nonrefundable travel expenses; trip delay reimbursement up to $500 per ticket if you're delayed more than 12 hours or require an overnight stay; baggage delay insurance up to $100 a day for five days for baggage delays over six hours; lost luggage reimbursement up to $3,000 per passenger; travel accident insurance up to $5,000; auto rental collision damage coverage; and more.
It may not always be obvious what travel protections your credit card might offer, so looking into the fine print in your card's terms before booking a trip is a good idea.
When it comes to hotel stays, the good news is that most hotels offer a 24-hour cancellation policy and several are currently waiving cancellation fees. It's best to check with your preferred hotel on their current cancellation policy when making your plans.
Credit cards with warranty protection
When making large purchases on items for say, setting up your home, you'll want to look at credit cards that offer warranty protections from reimbursement for repairs or replacement, as well as many that extend manufacturer's warranties when using the card for purchases. These could be important for large appliance purchases, as an example. Most Visa Signature and some MasterCard credit cards have a third-party claims program that will reimburse you for eligible repairs and replacements. American Express handles claims itself through its American Express Return Protection Policy.
Should you make your partner an authorized user on your credit card?
Making your partner an authorized user on your credit card is something you may decide to do. Wakeman says it's a personal decision whether or not to do so. You can find a way to be financially successful keeping your significant other somewhat separate and you can be successful in merging your finances completely. What matters is what's going to work within your relationship.
"You are entering into a partnership but like every partnership, there needs to be transparency even if things are kept individually," he says. "There needs to be an understanding of what's happening on the other side of the coin. If that transparency exists people can treat things, open things and maintain things the way they seem fit."
One of the benefits of making your partner an authorized user is that you can earn credit card rewards faster if you are both using the same card. Want to take it one step further? Be strategic in your planning here. Why not each get a new card and collect those welcome bonuses? One of you could get the Chase Sapphire Preferred® and the other the Chase Freedom Unlimited® card, for example, and you could both earn bonus points and rewards and later pool them together into your Sapphire Preferred account increasing the value of the rewards to make them work better for you.
Today's financial decisions could impact your future
The credit decisions you make today could have a huge impact on your future buying decisions. This might not be something many couples necessarily have at the forefront of their minds when in the throes of wedding planning, but it's critical, especially if homeownership is part of your long-term planning.
Before applying for a mortgage, Wakeman says you want to be very careful about doing things that could negatively impact your credit. As a financial planner, he recommends that couples always try to base every decision on how much they need to save for retirement and how much of a mortgage to take, suggesting couples try and tie back any financial decisions to goal-based planning before going into credit card debt to fund a wedding.
"It's important to look at things from a top-down approach and say 'Am I saving enough for retirement? Do we want to have children? How much do we feel is our responsibility to pay for some of or all of college? Do we have enough cash flow left within our incomes to save for retirement? Save for college and have a healthy cash reserve while paying off these credit card balances?'" he says.
Whatever you decide to do, explore your options and if you need to use a credit card or choose to use one for your wedding expenses, experts agree on one thing: Make sure you don't get stuck with revolving debt that can haunt you for years to come.
To see the rates and fees for the American Express cards mentioned in this post, please visit the following links: CardName (See Rates and Fees)