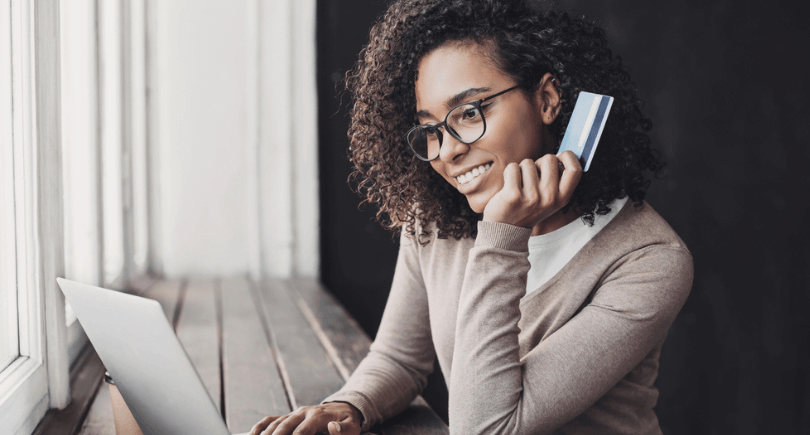 Security and protecting your identity are top of mind for many people these days, as they should be. An increasingly digital world provides so many opportunities for your identity and your money to be compromised. Luckily, an increasingly digital world also means that there are many ways – and new ones all the time – to keep yourself safe.
Credit cards offer protections that shopping with cash, checks or debit cards cannot. Some of those protections are regulation related, like rules around how a bank has to handle the fraud if your credit card is stolen, while others are strictly practical, as in there's no replacing it if you lose or have stolen a wallet-full of cash.
In general, shopping online with a credit card is among the most secure ways you can interact in the seemingly endless world of online retail. Many issuers these days are even offering temporary card numbers specifically for your online purchases so that you don't have to ever put your permanent account number into a website. Plus, online payment services such as PayPal mean that you can enter your payment information once and not have the need to even take your card out of the safety of your wallet in order to make a purchase in the future.
All that being said, there are some steps you should take to ensure that your credit card and personal information remain safe when you shop online.
How to shop online safely
1. Shop from reputable websites only
Know the brand you're buying from. If you've never seen the website before, spend a few minutes Googling for reviews or reports to the Better Business Bureau about the site. It's very difficult for a site to remain review-free on the web; if other people have had trouble with the site, you're almost guaranteed to find out that information with a quick internet search. You may still decide to go ahead with your purchase, but you'll be fully informed when you do.
2. Consider carefully to whom you hand your card for making an online purchase
Maybe you expected your roommate to use your card just once to buy that one pair of shoes and then pay you back. But many retailers offer you the option of saving your payment information to an account in order to make future purchases simpler. If your friend did that, they essentially have access to your account whenever they want… even if you and your roommate have a falling out.
3. Never give your info over the phone if someone calls you
If you place an order online and soon after receive a phone call telling you they need your credit card info again in order to complete your purchase, be leery. If that's true, you can hang up and call the company back yourself. That way you know who you've called and you can verify whether they need your info. This is a good lesson whether shopping online or not – never give out personal information to a stranger who calls you on the phone, no matter what they tell you they need it for.
4. Take advantage of the safety features built into your card
If your card offers you the option of paying with a temporary card number or any other features to make your purchase more secure, take them up on it! You have nothing to lose by using these safety features and potentially a lot to gain by avoiding fraud and identity theft.
5. Make sure your desktop, laptop, device, phone and so on are protected
That might mean antivirus software. That might also mean making sure you have a secure Wi-Fi connection. In other words, follow all of the rules we know we should. Make your passwords to website complicated. Don't type "password1234" and think you're taking precautions from cyberhackers.
6. Go to a retailer's website yourself – don't go through a link from an email
Granted, maybe you know that the email is from a trusted brand, but it's still safer to go directly to the website. Plenty of con artists will make emails look like they're from a reputable store, and if you're not paying attention, you could end up shopping at Bad-Guys-R-Us instead of Toys-R-Us.
7. Pay using a digital wallet
If you use something like Apple Pay or Google Pay, that can help protect you. That's because those digital wallets won't actually give your credit card number to the retailer. Some credit cards offer virtual account numbers. Capital One, for instance, does something like that with their automated assistant Eno, which invents merchant-specific virtual card numbers that are linked to your Capital One credit card account.
➤ SEE MORE: Best credit cards for online shopping
Bottom line
if you're shopping online with your credit cards, as long as you're at a reputable website, you really are in safe hands. Credit card companies know that if somebody manages to steal your credit card information, their brand reputation may suffer. They've had a lot of practice foiling cybercriminals and have a lot of incentive to make sure your money and personal identification information stays safe.