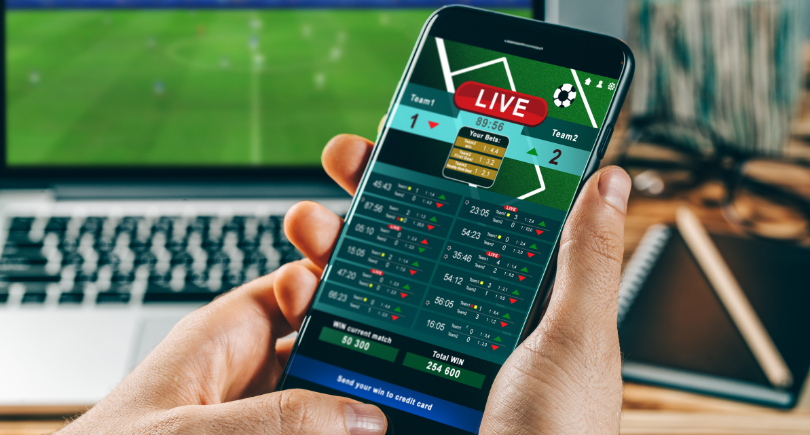 In the five years since the U.S. Supreme Court lifted the federal ban on sports gambling in 2018, Americans have wagered an estimated $220 billion on the Super Bowl, the Final Four and scores of other sporting events. To put that into perspective, Americans spent an estimated $221.7 billion online during the 2022 holiday shopping season.
As the data suggests, sports betting is a big business that's poised to get even bigger. Some of that growth is bound to be fueled by bets placed with credit cards.
Bettors frequently use credit cards on sports betting websites. According to sports betting site Bookies.com, most of the major sports betting sites in the U.S. accept credit cards as a method for bettors to deposit money into their accounts. But is it wise to rely on credit cards to fund online sports gambling? Some experts advise against depending on credit cards for online sports wagering.
Where can you place online sports bets with a credit card?
Most states allow funding an online sports gambling account by credit card. The exceptions are Iowa, Massachusetts, New Hampshire, Rhode Island and Tennessee, according to Bookies.com.
Keep in mind that some credit card issuers block sports gambling transactions altogether.
At least one sports betting operator, an app called Betr, also prohibits the use of credit cards for deposits.
Bookies.com further points out that you won't be able to tap into funds that were added by credit card in a state where it's legal when you travel to a state where it's illegal to do so.
Thirty-eight states and the District of Columbia allowed sports betting as of June 2023, according to the American Gaming Association.
Should you use a credit card for online sports betting?
For a number of reasons, Bruce McClary, senior vice president of membership and communications at the National Foundation for Credit Counseling, warns against racking up credit card charges on sports betting websites.
Aside from perhaps earning rewards points, "I can't think of any positives about using a credit card for sports betting, or any type of gambling for that matter," says McClary.
Here are four of the risks of covering deposits for online sports betting with credit cards.
1. Borrowing money that must be paid back
Just as you're doing if you take out a loan, you're borrowing money when you're using a credit card. "You're playing a game of chance with money that's not yours," McClary says.
At some point, this debt must be paid off. Of course, the longer it takes you to eliminate the debt, the more it generally costs you to borrow the money.
2. Piling up credit card interest and fees
Unless you pay off your entire balance each money, you'll typically be charged interest. And if you miss a payment or exceed your credit limit, you might be hit with a fee.
So, let's say you deposit $5,000 in a sports betting account using a credit card. If the APR (annual percentage rate) for the card is 23.99%, you could wind up paying nearly $100 in interest in just one month on your $5,000 balance.
➤ SEE MORE:Monthly Credit Card Interest Calculator
In addition, some credit card issuers view sports betting deposits as cash advances. Typically, APRs for cash advances are higher than they are for other credit card transactions. Plus, card issuers charge a cash advance fee (often 5% of the amount borrowed or $10, whichever is greater).
"It's best to leave credit cards out of the picture … if you decide to place bets," says McClary.
3. Promoting overspending
Charging sports bets on a credit card could lead to overspending. In other words, you might spend more money that you can reasonably afford to part with.
Among other things, overspending might max out your credit card, strain your budget and hurt your credit score. Worse yet, your debt could become so unmanageable that it prompts you to seek help from a nonprofit credit counselor or your debt ends up being turned over to a debt collector.
Either one of those scenarios could spell big trouble for sports bettors.
A 2023 study by the TransUnion credit bureau found that online sports bettors (also called mobile sports bettors) rely more on credit and savings to pay bills compared with non-sports bettors.
"Should the economy or job market weaken, these consumers may have less of a savings buffer to help them wade through choppy economic waters," the study says. "What's more, using new credit to pay down existing loans can significantly increase mobile sports bettors' vulnerabilities to future financial shocks, such as losing a job."
4. Feeding a gambling addiction
If you're already coping with a gambling addiction, leaning on credit cards to support your habit could aggravate the addiction. It's estimated that 2 million adults in the U.S. are addicted to gambling, and another 4 million to 6 million experience mild to moderate gambling problems.
It's worth noting that the amount of money you win or lose doesn't dictate whether you've got a problem with gambling. "Gambling becomes a problem when it causes a negative impact on any area of the person's life," says the National Council on Problem Gambling.
How to gamble responsibly
In addition to steering clear of credit cards, you can take several steps to keep sports gambling from turning into a problem.
In 2019, the American Gambling Association teamed up with various partners to launch the Have A Game Plan initiative. The campaign offers four suggestions for responsible gambling:
Set a budget and stick to it. For instance, you might choose to spend no more than $500 on sports betting per month.
Treat sports betting as a form of entertainment for adults.
Know the gambling odds.
Place wagers with legal, regulated operators.
Here are some other tips:
Gamble with cash you've got on hand rather than money you've borrowed. Placing sports bets with credit cards "is a lose-lose proposition as far as I'm concerned," McClary says.
If you must use them at all, use credit cards on a limited basis.
Place small-dollar bets rather than high-roller bets.