Discover it® Secured Credit Card Review
A secured credit card that offers rewards is tough to come by, but that's what you find with this card. Build your credit history while earning some cash-back rewards along the way.
Discover it® Secured Credit Card
CardRatings Editor's Analysis: Pros & Cons
This is a unique secured credit card that offers cash-back rewards. Earn 2% back on the first $1,000 spent each quarter at gas stations and restaurants (then, 1%) and 1% on all your other purchases.
Discover will MATCH all the cash back you've earned at the end of your first year.
After seven months of responsible use, Discover will automatically review your account monthly to determine whether you're eligible to be transitioned to an unsecured card.
While there's no annual fee, the minimum security deposit amount could be a stretch for some people at $200. If you can't see coming up with that deposit, there are additional secured credit cards with lower security deposit requirements.
Terms and Limitations Apply.
What Discover Says About This Card
notes
Top Features
Cash Back on Gas
Earn 2% cash back at Gas Stations and Restaurants on up to $1,000 in combined purchases each quarter. Plus, earn unlimited 1% cash back on all other purchases - automatically.
Cash Back on Groceries
Earn unlimited 1% cash back on all other purchases - automatically.
Cash Back on Other
Earn unlimited 1% cash back on all other purchases - automatically.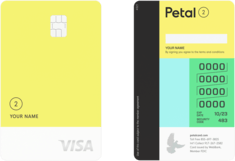 No fees whatsoever. No late fee, foreign transaction fee, annual fee, or any-other-kind-of-fee, fee.
Variable APRs range from 17.74% - 31.74%
Up to 1.5% cash back on eligible purchases after making 12 on-time monthly payments.
1% cash back on eligible purchases right away
2% - 10% cash back at select merchants
$300 - $10,000 credit limits
No credit score? No problem. If eligible, we'll create your Cash Score instead.
See if you're pre-approved within minutes without impacting your credit score.
Build credit alongside hundreds of thousands of Petal card members.
Petal reports to all 3 major credit bureaus.
No deposits required
Card issued by WebBank
Credit Needed:
Excellent, Good, Limited History, No History, Limited, No Credit
CardName

Essentials
Just as life doesn't always go as planned, your credit score doesn't either. But don't fret; credit card issuers like Discover won't leave you out in the cold. For those with less-than-stellar credit, there are secured credit cards and one of the top options is the CardName card.
The CardName looks the same as any other credit card, but functions a bit differently. Instead of qualifying for a credit limit based on your credit profile and income, this card requires a security deposit of at least $200, which, if you're approved based on your credit profile, will determine your credit limit. You can establish your credit line with your tax return by providing a refundable security deposit of at least $200. Bank information must be provided when submitting your deposit. Like a traditional credit card, as you use your credit card, you will need to make payments each month. This credit activity is then reported to the three major credit bureaus so on-time payments and responsible use will help build your credit score up over time. In fact, after seven months your account will be automatically reviewed monthly to see if your security deposit can be returned and the card transitioned to a traditional unsecured card.
To apply, you need to be at least 18 years old, have a Social Security number, U.S. address and U.S. bank account. A minimum security deposit of $200 is required to establish your line of credit with this card, but there's no annual fee. Your maximum credit limit (up to $2,500) will be determined by your income and ability to pay.
Perhaps most exciting about the CardName is that this is a rewards card – fairly unheard of in the secured credit card market.
What Our Editors Like Most About the

CardName
The best part about the CardName card is that, despite a credit rating in the less-than-perfect range, with approval and your security deposit you're still given access to many of the same benefits as someone with good credit. For instance, you'll earn 2% on the first $1,000 you spend at gas stations and restaurants each quarter and 1% on all your other purchases. Better still, Discover will MATCH all the cash back you earn at the end of your first year as a card member; that means that earning $100 in cash back is actually worth $200 thanks to the match.
Looking ahead, you could also have the opportunity to transition from a secured credit card to an unsecured line of credit as long as you show a pattern of responsible spending and paying over an seven-month period.
Also an excellent feature is the fact the CardName does not charge an annual fee – its not unusual for secured credit cards to require both a security deposit and an annual fee to carry the card.
Discover boasts all U.S.-based support centers that don't just handle questions about missed payments and lost cards. They also form the backbone of an identity theft detection and resolution system that has earned Discover top marks from some of the industry's toughest critics.
Potential Downsides of the

CardName
Although the cash-back rewards associated with the CardName card entice potential cardholders, the downside is that not every applicant is approved. Approval depends on credit history and other financial variables. If you're uncertain that you will be approved and don't want a hard credit inquiry on your report, a different secured credit card might be a better fit for you.
Furthermore, you'll need at least a $200 security deposit to get started with this card. That's a substantial amount of money that you'll need to come up with.
CardName

Cardholder Scores
CardRatings conducts a survey annually to learn what actual cardholders think of their cards. Here are the results:
| | Current Scores | Past Scores |
| --- | --- | --- |
| Overall Score | 77.9 | 81.6 |
| Features Satisfaction | 7.7 | 7.9 |
| Customer Service | 8.1 | 8.2 |
| Website/App Usability | 7.8 | 8.3 |
| Likelihood of Continuing to Use | 8.2 | 8.8 |
| Recommend to a Friend/Colleague | 7.6 | 8.3 |
*Scores above reflect the results of surveys with actual cardholders. Full methodology below.
How the

CardName

Compares to Other Secured Credit Cards
CardName vs. CardName
discontinued
Both cards report to all three major credit bureaus, but Discover requires at least a $200 security deposit to establish your line of credit, while the CardName offers the opportunity, depending on your creditworthiness of opening an account with a security deposit as low as $49 (your security deposit will be $49, $99 or $200 and will secure an initial credit line of $200). You must have access to an authorized bank account is required to make your $49, $99 or $200 refundable security deposit. Neither card requires an annual fee.
Because of the cashback perks, the CardName could be the better pick for you if you can get the higher initial security deposit together. However, the Capital One card can give you access to a higher line of credit in as little as six months.
CardName vs. CardName
(Citi is a CardRatings.com advertiser)
Neither the CardName nor the CardName charges an annual fee. Like Discover, Citi® asks applicants to make a refundable security deposit that will be equal to their credit limit. The two share a minimum security deposit of $200. The cards have similar perks, but only the CardName offers that dollar-for-dollar cashback match after the first year.
Additionally, the CardName is not available to individuals who have had a bankruptcy within the past two years.
CardName vs. CardName
The CardName is a secured credit card option that comes with an annual fee of AnnualFees. Pay your security deposit of at least $200 and enjoy a credit limit of $200-$3,000 (depending upon your deposit amount) with the opportunity to raise that limit to $5,000 within the first year with responsible use and payment. Once again, you're dealing with an annual fee, but if you foresee wanting a higher credit limit soon, this could be a better option for you. You can also open an CardName without a credit check or even a checking account, so this could be a great option for individuals starting from the ground up with their credit history.
Who Should Get This Card?
If you're truly trying to rebuild your credit and expect to be able to increase your spending in the next year, the CardName card is for you. The opportunity to earn rewards is impressive for a secured credit card, but the match that Discover offers after your first year is truly exceptional. With no annual fee and reporting to all three major credit bureaus, this card is perfect for those starting out or starting over.
Survey Methodology: CardRatings commissioned Op4G in September and October 2022 to conduct surveys among 1,554 cardholders nationwide. CardRatings website analytics from Jan. 1, 2022-Aug. 31, 2022 were used to determine a selection of the most popular cards and additional cards were included to add survey breadth. Responses to each of nine questions were given on a scale of 1-10 and respondents' scores were then averaged under broad topics. To determine the overall score, responses from questions 1-8 were summed and the answer to "How likely are you to recommend this card to a friend, coworker or family member?" was double weighted. "Current Scores" reflect scores from the most recent survey (2022); "Past Scores" reflect scores from the 2021 survey.
Disclaimer: The information in this article is believed to be accurate as of the date it was written. Please keep in mind that credit card offers change frequently. Therefore, we cannot guarantee the accuracy of the information in this article. Reasonable efforts are made to maintain accurate information. See the online credit card application for full terms and conditions on offers and rewards. Please verify all terms and conditions of any credit card prior to applying.
This content is not provided by any company mentioned in this article. Any opinions, analyses, reviews or recommendations expressed here are those of the author's alone, and have not been reviewed, approved or otherwise endorsed by any such company. CardRatings.com does not review every company or every offer available on the market.