Simmons Visa® Review
Have excellent credit and looking for a solid, no-frills card? This regional bank offers some of the country's best low-interest credit cards with something that most elite credit cards don't provide: free balance transfers.
By
Jennifer Doss
CardRatings Editor
|
Updated
Simmons Visa®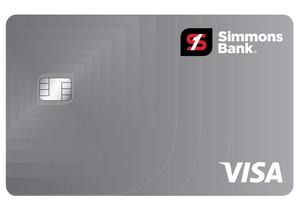 CardRatings Editor's Analysis: Pros & Cons
Due to consistently having among the lowest variable interest rates in the country, this card has been an Editor's Choice pick for the best low interest credit cards every year since it came on the market.
There's no balance transfer or annual fee with this card, so it's great to have on hand for larger purchases you can't pay down right away.
You'll enjoy a range of behind-the-scenes perks, such as travel insurance, with this card.
This card is only available to people with impeccable credit.
Terms and Limitations Apply.
The Simmons Visa® is a no-frills, no-annual-fee credit card with one of the lowest variable APRs on the market, which is exactly why we think it's a top choice for anyone who needs to carry a balance.
Founded in 1903, Simmons Bank has spent more than a century building a reputation for fairness, value, and customer service. It's a regional institution with headquarters in Arkansas and more than 200 locations spanning eight states from Colorado to Tennessee; however, you don't need to be located near a branch to apply for this card.
Those who are approved get a low APR that is currently 8.25% variable. While the card doesn't offer rewards, you could always pair it with your favorite rewards card as there are no balance transfer fees for transferring a balance to the Simmons Visa® card.
Don't confuse convenience checks and cash advances for balance transfers though. If you take out a cash advance or use a convenience check, you'll be looking at fees.
The Simmons Visa® also comes with the following perks:
Up to $1 million in travel accident insurance at no additional cost.
Car rental coverage for damage, due to collision or theft, up to the actual cash value of most vehicles.
Around-the-clock customer service.
We love that the Simmons Visa® offers these valuable protections and still charges no annual fee. Overall, the card is an excellent choice for anyone who needs to pay off a purchase over time and doesn't want to have to worry about chasing the best rates.
Top Features
Regular APR
8.25% variable
While it's hard to beat the APR of the Simmons Visa®, this card isn't right for everyone. For instance, if you pay off your balance every month, you'll probably be better off with a rewards card that will give you cash back, travel miles or points for your purchases. Plus, rewards credit cards typically have sign-up bonuses that provide extra miles or cash back to new members. The Simmons Visa® doesn't have any such welcome offer for its new cardholders.
This card charges a foreign transaction fee, so it may not be a good fit for international travel. While the fee is lower than what we normally see with other cards - 2% of amount in US dollars compared to the 3% fee that is more common - it can still quickly inflate the cost of an overseas trip.
A final downside to the Simmons Visa® is the credit requirement. In order to get this fantastic APR, you need excellent credit. That may put it out of reach for many consumers who have fair or average credit scores.
CardRatings conducts a survey annually to learn what actual cardholders think of their cards. Here are the results:
| | Current Scores | Past Scores (avg.) |
| --- | --- | --- |
| Overall Score | 63.4 | 75.2 |
| Features Satisfaction | 6.4 | 7.3 |
| Customer Service | 6.4 | 7.7 |
| Website/App Usability | 6.3 | 7.7 |
| Likelihood of Continuing to Use | 6.6 | 7.9 |
| Recommend to a Friend/Colleague | 6.1 | 7.6 |
Simmons Visa® vs. PenFed Gold Visa®
Both the Simmons Visa® and PenFed Gold Visa® Card can claim to be low-interest, low-fee credit cards, but the Simmons Visa® is the clear winner when it comes to rates. It charges the same 8.25% variable for all customers while the PenFed Gold Visa® Card has rates ranging from 7.49% to 17.99% Variable APR on purchases; 17.99% Fixed APR on balance transfers based on creditworthiness. There is a chance the PenFed Gold Visa® Card could offer the better deal, but there is no guarantee. Neither card charges an annual fee.
The PenFed Gold Visa® Card doesn't provide any extras such as travel accident insurance or car rental coverage, but that doesn't mean you should discount the card entirely. The PenFed Gold Visa® Card doesn't charge a foreign transaction fee, making it a better choice for those who travel internationally. Plus, the card has a welcome offer for new cardholders. Spend $1,500 on purchases within 90 days of opening an account, and PenFed will give you a $100 statement credit. That's something you won't get with the Simmons Visa®.
Simmons Visa® vs.
Green Dot primor® Visa® Gold Secured Credit Card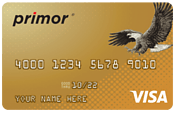 (This card is not currently available on CardRatings)
Both of these cards offer low interest rates, but each is geared toward a different set of consumers. The Simmons Visa® is intended for those with excellent credit while the Simmons Visa® is designed for those with little or no credit or a poor credit score.
The Green Dot primor® Visa® Gold Secured Credit Card requires cardholders to make a deposit into a savings account that is equal to their initial credit limit, and initial credit limits can range from $200 to $5,000. The card charges a 9.99% (F) APR. There is however, a $49 annual fee and a 3% foreign transaction fee.
A secured credit card can be a good choice for those who need to build their credit. The Green Dot primor® Visa® Gold Secured Credit Card doesn't have any minimum credit score requirements and reports payments to all three national credit bureaus. However, if you already have great credit, the Simmons Visa® might be the better option as it has fewer fees and no security deposit required.
Yes, we think so. The Simmons Visa® isn't the flashiest card on the market. It doesn't earn you rewards or have a laundry list of extra perks, but for those carrying a balance, nothing can beat a low interest rate.
The Simmons Visa® card has one of the lowest regular APRs currently available, no annual fee and no balance transfer fees. In our book, that makes this card an excellent choice for paying off large purchases over time.
Survey Methodology: CardRatings commissioned Op4G in September and October 2021 to conduct surveys among 1,524 cardholders nationwide. CardRatings website analytics from Jan. 1, 2021-Aug. 31, 2021 were used to determine a selection of the most popular cards and additional cards were included to add survey breadth. Responses to each of nine questions were given on a scale of 1-10 and respondents' scores were then averaged under broad topics. To determine the overall score, responses from questions 1-8 were summed and the answer to "How likely are you to recommend this card to a friend, coworker or family member?" was double weighted. "Current Scores" reflect scores from the most recent survey; "Past Scores (avg.)" are the scores averaged over each prior year the card has been surveyed. "Past Scores" indicates a card has only been surveyed in one prior year.
Disclaimer: The information in this article is believed to be accurate as of the date it was written. Please keep in mind that credit card offers change frequently. Therefore, we cannot guarantee the accuracy of the information in this article. Reasonable efforts are made to maintain accurate information. See the online credit card application for full terms and conditions on offers and rewards. Please verify all terms and conditions of any credit card prior to applying.
This content is not provided by any company mentioned in this article. Any opinions, analyses, reviews or recommendations expressed here are those of the author\'s alone, and have not been reviewed, approved or otherwise endorsed by any such company. CardRatings.com does not review every company or every offer available on the market.