Congratulations on your pregnancy!
The last thing you want to worry about now is money, but that's as inevitable as the confusion you will face trying to decipher the difference between an UPPABaby Vista stroller and a Peg Perego.
All new parents want to give their new baby everything he or she needs to thrive and, of course, to create a safe and comfortable family home. This often means re-evaluating your financial tools, including the credit cards that pulled you through your freewheeling 20s, and seeking out better options. To help, we've pulled six of our very best credit card options to fit any growing family.
Our editor's take:
As a credit card writer and a mother, I recommend this card as the one with which the bonus categories are most likely to overlap the spending habits of new mothers: 6% cash back on at U.S. supermarkets (up to $6,000 spent annually), 3% cash back at U.S. gas stations and select U.S. department stores and 1% cash back on other purchases... that's where I spend all my money!
Card Details
Credit required
Excellent, Good
APR
13.99%-24.99% Variable
Annual fee
Special Offer: $0 intro annual fee for the first year of Card Membership, then $95.
Baby-Friendly Bonus Categories. The Blue Cash Preferred® Card from American Express offers a whopping 6% cash back at U.S. supermarkets (up to $6,000 per year in purchases, then 1%). With all that spending on baby formula, baby food, etc. who wouldn't like 6% cash back at supermarkets?
There's also 3% cash back at select U.S. department stores, so you can maximize your baby spending as you prepare the home for baby, and 3% cash back at U.S. gas stations. No rotating bonus categories: perhaps best of all, these generous bonus percentages are consistent throughout the year – a great benefit since you'll be so busy, you won't have the time to think about activating bonus categories. This card won our CardRatings Editor's Choice Award for Best Cash Back Credit Card for 2016
Show All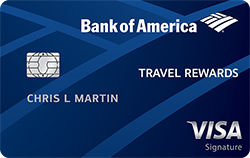 Learn More
Our editor's take:
Ease the sting of travel costs by earning travel rewards so those costly holiday flights are free. No annual fee and no blackout dates, and the little tyke actually gets to go meet her far-flung relatives.
Card Details
Credit required
Excellent/Good
APR
15.99% - 23.99% Variable APR on purchases
Intro offer
0% Introductory APR on purchases
Travel, Baby. A travel rewards credit card may not seem like the obvious choice since it's never easy to travel with an infant, but seasoned travelers will tell you the best time to get kids used to trips is by starting out young. And getting to Granny's for the holidays can sometimes be an unexpected significant cost, so rewards points earned throughout the year turn into flights for the entire family to see the folks for the holidays. The right travel rewards card can help you with your goals of showing your little one the world - or just showing her off to close relatives.
The Bank of America® Travel Rewards Credit Card, is a great one to consider in this situation because its rewards don't expire, meaning you can start earning now but travel only when you feel most comfortable. The points are easy to redeem with no restrictions or blackout dates. For a limited time they have increased their signup bonus so you will receive 20,000 bonus points after spending $1,000 in the first 90 days. 100 points equals $1 in travel credit - that equates to a bonus of $200 in travel - a great start!
In addition to the bonus, you'll earn an unlimited 1.5 points for every $1 spent, which equals 1.5% cash back to spend on travel. Qualifying Bank of America checking or savings account holders also get an additional 10% bonus on every single purchase, upping the cash back to 1.65% - high for a no-fee card.
Show All
Our editor's take:
Preparing for baby takes a lot of up-front spending. Avoid high interest with 0% APR on purchases and balance transfers for 21 months.
Card Details
Credit required
Excellent, Good
APR
14.49% - 24.49% (Variable)
Intro offer
0%* intro on purchases
Breathing Room. Planning on making a lot of expenses and don't want to worry about paying high interest on your debt? Citi Simplicity® Card - No Late Fees Ever (which won our CardRatings Editor Choice Award for Longest 0% Intro APR for 2016), gives you 21 months of 0% APR - some serious breathing room for paying back your expenses without having to worry about high interests (perhaps after you've started working again)? You'll likely be making some big purchases, and this can help give you a little bit of peace of mind; just make sure you have a plan to pay that debt down. No late fees, no penalty rate, and no annual fee.
Show All
Our editor's take:
Citi® Double Cash Card is the only card that earns you cash back twice on every purchase – 1 percent cash back when you buy and 1 percent cash back as you pay for those purchases, whether in full or over time.
Card Details
Credit required
Excellent, Good
APR
14.49% - 24.49%* (Variable)
Time for Yourself. You may be more financially secure now than your post-college days, but there is nothing like having a baby to make you nostalgic for the days when you always had at least a little cash on hand (and time) for impulse buys, from lattes to lipsticks. That will be harder to justify now, but not impossible. Put your credit cards to work for you. Citi® Double Cash Card - 18 month BT offer, another winner of our 2016 best picks for cash back card, is perfect for new moms – simply buy what your baby needs and keep the cash for yourself. Win-Win.
Show All
Our editor's take:
Cardholders are eligible for 2 ThankYou Points per dollar spent on dining at restaurants and entertainment and 1 ThankYou point on other purchases.
Card Details
Credit required
Excellent
APR
14.49% - 24.49%* (Variable)
Intro offer
0%* intro on purchases
Keeping it Simple. One common criticism of rewards credit cards is that they all look great on paper but the fine print is so difficult to follow that it feels like more work and less "reward."One popular exception is the Citi ThankYou® Preferred Card, known for its ease of redemption. You can link your Citi ThankYou Member account with your Amazon.com account in a few clicks and use ThankYou Points toward any eligible purchase. It's also solid on airline tickets, hotels and more. Now when you sign up for automatic Amazon delivery of all those diapers – definitely the way to go to avoid midnight runs to the grocery store – you can make your money work a little harder for you and your family.
Show All
Other top cards for expecting mother's are Fidelity® Rewards Visa Signature® Card, M&T Visa Signature, and The Upromise MasterCard®.
Of course, no credit card can replace sound financial planning – or a mother's love. All it can do is make life a little easier.
Now if there was only a credit card for sleepless nights.