Editor's Choice Awards 2013: The year's best credit cards
Posted On : December 5, 2013 by Curtis Arnold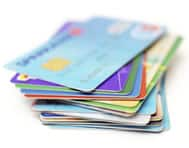 Competition has crept back into the credit card marketplace, with major brands squaring off against upstarts from unusual places.
This year, banks and payment platforms worked even harder to give consumers reasons to remain loyal to their brands.
About the Author
Curtis Arnold, a nationally recognized consumer educator and advocate, has been educating consumers about credit cards since 1998. New! Curtis is the author of 'How You Can Profit from Credit Cards: Using Credit to Improve Your Financial Life and Bottom Line' (FT Press, 2008). He is also the co-author of the upcoming Complete Idiot's Guide to Person-to-Person Lending (Alpha Books/Pengiun Group USA, April 2009), a contribitor to The Ultimate Allowance (InnerWealth Publishing, 2008) and is extensively featured in 42 RulesTM for Driving Success With Books (Super Star Press, January 2009).